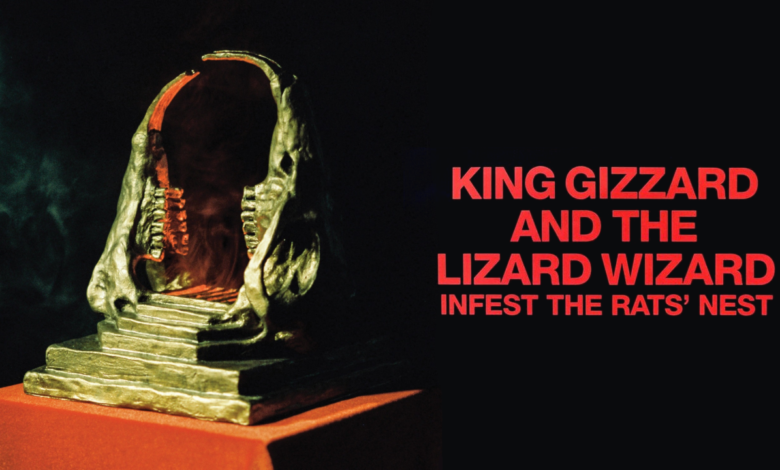 Season's greetings, friends! Can you believe it's been a year since last we spoke? And what better way to celebrate the holiday season than with the 10th entry to the ongoing collaborative Album Series: a full release of the 2019 environmentalist space-horror thrash album, "Infest the Rats' Nest".
(I swear I definitely did not intend for this to release during Halloween.)
Following their release of "Fishing for Fishies" earlier that year, "Infest the Rats" is the 15th studio album by King Gizzard & the Lizard Wizard. The album follows the story of a renegade crew of spacefarers as they attempt to escape the Earth, now inhospitable as a result of environmental ruin. Unable to flee to Mars, now inhabited by the rich and social elite, the crew sets their sights on a doomed course for Venus, unaware of the horrors that await them.
Touching on topics of industrial exploitation, the politics of space colonization, the irreversibility of our profiteering of the land, and some retrospectively prescient depictions of bacterial annihilation that predated the COVID-19 epidemic, "Infest the Rats' Nest" is an anxiety inducing, pulse-pounding trip into the very bowels of figurative (and perhaps even literal) hell. Now, you can experience that journey in its entirety on your Rock Band setup.
Start your journey with the dystopian class warfare anthem "Mars for the Rich," featuring energetic guitars and a killer bass solo. Pick up the tempo with the momentous thrash rhythm of "Organ Farmer," then slow it back down for the infectious stoner riffage of "Superbug." Pit your drummer up against the monstrous drum solo that introduces the nightmarish climax of the album "Self-Immolate," and gather everyone on microphone to chant your crew off in the epic conclusion to the album, "Hell."
And of course, be sure to round out this collection of tunes with the leading track of the album, "Planet B" as previously charted by Kloporte. Kloporte has a long history of charting King Gizzard and the Lizard Wizard, including full album releases for Nonagon Infinity and Polygondwanaland, so you'll definitely want to add it to your collection to round out the pack.
Previous Entries in the Album Series:
1. The Beach Boys – Pet Sounds
2. Silver Jews – Tanglewood Numbers
3. Joy Division – Unknown Pleasures
4. Summer Salt – Happy Camper
5. My Chemical Romance – The Black Parade
6. Beach Bunny – Honeymoon & Blame Game
7. Jimi Hendrix – Band Of Gypsys
8. Red Hot Chili Peppers – Unlimited Love
9. Father John Misty – I Love You, Honeybear
The album series is an ongoing collaborative project. If you would like to get involved be sure to reach out to Yaniv297 for more information on how to participate. Be sure to return again tommorow for even more releases as part of our 12 Days of Christmas event, picking up again with releases from TomGuy in the morning and KrisAngel in the evening. Until next time!