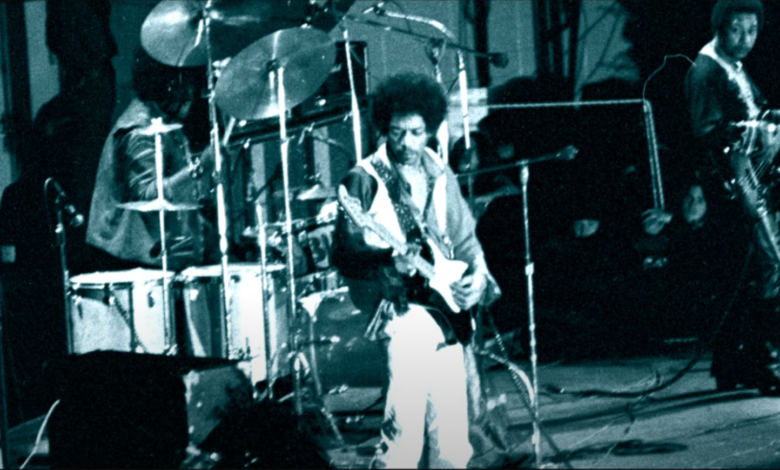 After a lot of hours of work, and even more hours of procrastination, I'm finally proud to present Jimi Hendrix's last album before he passed away: Band of Gypsys.
This album is the result of recording 4 live shows, over the course of two nights celebrating 1970 new years. Now the vast majority of the material that made the album was recorded on the third and fourth show. However, what's really cool is that during the second show, you can hear the count-down to the new year. I think it's pretty cool being able to pin-point exactly what Jimi was doing at that moment in time.
In any case, this album is really a tour-de-force of guitar work, the highlight being Machine Gun, the second track off the album. The bass and drum parts on this album are a lot less flashy, however they lock in so well that they provide an insanely strong foundation for Jimi and his amazing guitar playing. Another interesting thing to note here is that not all the songs were written by Jimi. "Changes" was a song written by Buddy Miles, who, not only did he write the material, but he also sings lead vocals on the song. Buddy Miles also wrote and performs lead vocals on the final song off the album, "We Got to Live Together". Furthermore, on other tracks, like "Who Knows", Jimi and Buddy trade lead vocals. What I find really cool about Buddy miles singing live, is that he's also playing drums while doing this! And there some very fun vocal performances that he gives. Specifically, the scat-eques "solo" near the end of "Who Knows".
In light of this, I tried to replicate this setup in-game. I tried to create the customs such that whenever it's Buddy Miles singing, it's the in-game drummer singing, and when it's Jimi singing, it's the in-game guitarist singing. Results may vary, as I had to cut around the in-game singer, but I think for the most part I was able to pull it off.
You may have noticed already (if you skipped the write-up and looked at some of the timestamps) that some of the song lengths of the customs are almost double what they are on the LP. That's because I opted to chart the full performance of these songs; these are not the versions of the songs found on the LP. Yes, in order to fit all the songs on the second side of the LP, edits had to have been made. As a result, songs like "Changes", and "We Got To Live Together" were almost cut in half to make all the songs fit on one side of wax. In the spirit of preserving the concert experience, I opted to chart the full performance of all of these songs. The full performances were sourced from the "Songs for Groovy Children: The Fillmore East Concerts" box set, that was release a couple years back.
Finally, something I want to say about this release, is that it wouldn't have been possible to complete without the help of Bsbloom. The guy is a beast charting guitar, and all of the guitar parts come courtesy of him. Bsbloom also helped out with most of the bass parts, and even did vocals for one of the songs. So, a very special thanks to Bsbloom for that! It's much appreciated.
Who Knows
Guitar – Bsbloom
Vocals – Bsbloom
Machine Gun
Guitar – Bsbloom
Bass – Bsbloom
Changes
Guitar – Bsbloom
Bass – Bsbloom
Power of Soul
Guitar – Bsbloom
Bass – Bsbloom
Message to Love
Guitar – Bsbloom
Bass – Bsbloom
We Gotta Live Together
Guitar – Bsbloom
Well, that's all I have for now. There's always things in the pipeline (I hope you like Porcupine Tree) that I'm working on. Until then, take care!
Previous Entries in the Album Series:
1. The Beach Boys – Pet Sounds
2. Silver Jews – Tanglewood Numbers
3. Joy Division – Unknown Pleasures
4. Summer Salt – Happy Camper
5. My Chemical Romance – The Black Parade
6. Beach Bunny – Honeymoon & Blame Game
The Album Series is an ongoing open project. If you want to contribute, by releasing an album-centric pack (not necessarily a full album) in any genre, feel free to contact yaniv297.