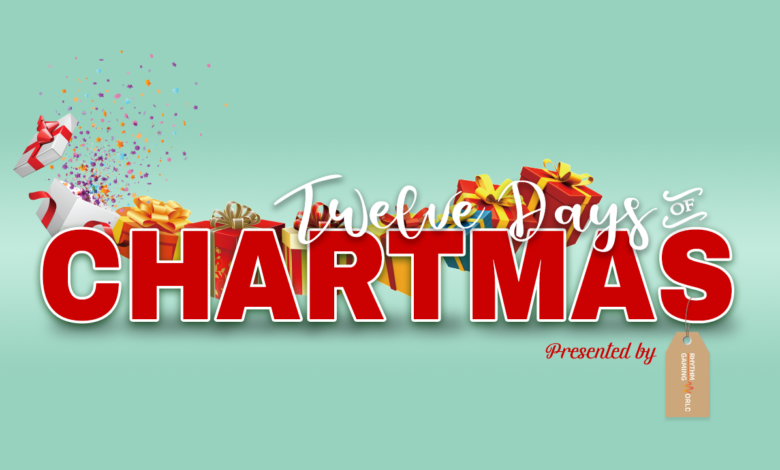 Hello everyone, we have now reached day 12 of the 12 Days of Chartmas event! It's been a great dozen days of music from such an incredibly talented bunch of authors. It's been a great way to close out 2022. For our last day of the event we have a little bit of everything from several authors who have given us some great releases already and a few authors who we haven't seen yet.
So here we are, the 12 Days of Chartmas Finale!
BornGamerRob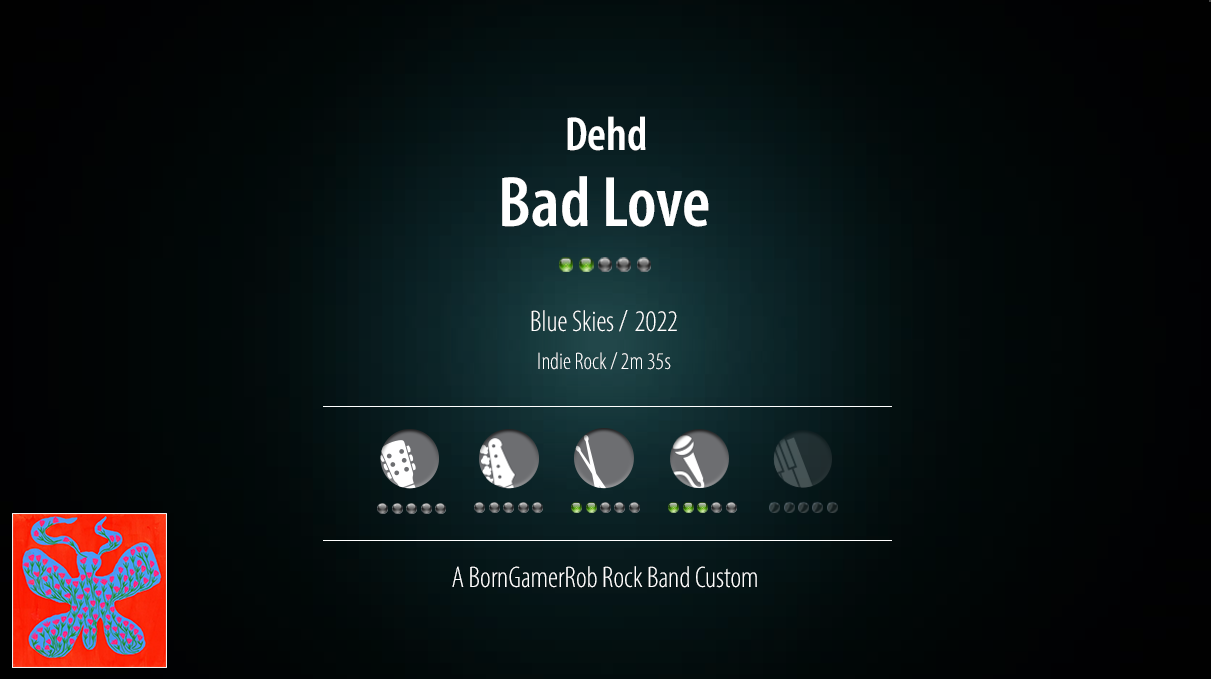 Dehd – Bad Love
Who better to describe the song then the writer herself, Emily Kempf: "Bad Love is about recovering from love addiction and making a decision to stop choosing and aligning with people who aren't your energetic match I wrote it for myself and for everyone who needed to hear a song about choosing new forms of love. It's about chasing a relationship with oneself rather than an unhealthy one, one that just doesn't quite fit, or a codependent one." Once I heard it, knew I wanted to play along with it, so here it is for your enjoyment.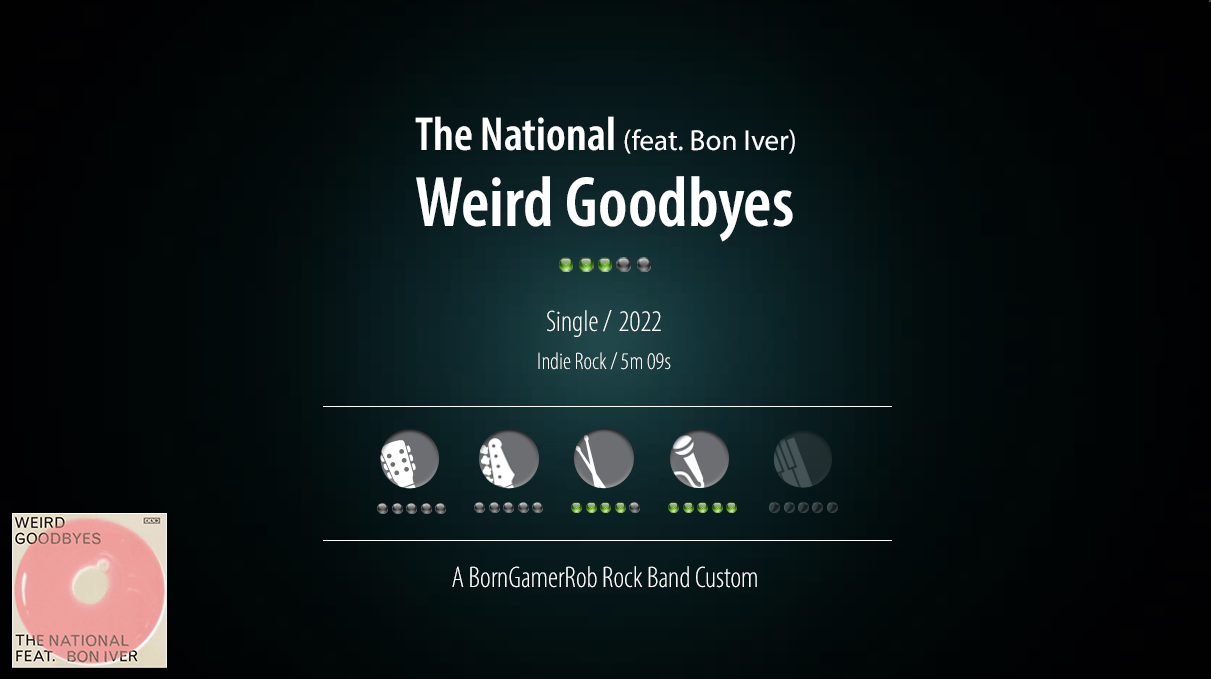 The National – Weird Goodbyes
This is my second entry for a National's song, and they are just incredibly hard to resist due to their strong lyrical content. This song clips right along with that thought and can evoke some strong emotional reactions. Described by lead singer Matt Berninger as a song about mourning a loss of innocence and motivation, holding onto memories and feelings that inevitably slip away and the grief we all suffer. And it does a really good job at taking you through just that. You'll notice the unique drum beat of this song. This stemmed out of messing around with a drum machine but then seeing how drummer Bryan Devendorf could bring it into reality. And he did. The entire song was built around the drums, which can be quite tricky to master as you will find when you give it a try. Enjoy this latest single from The National!
Kloporte
Hi! It's been a while since my last customs, but I recently got back into it and here's six songs to celebrate!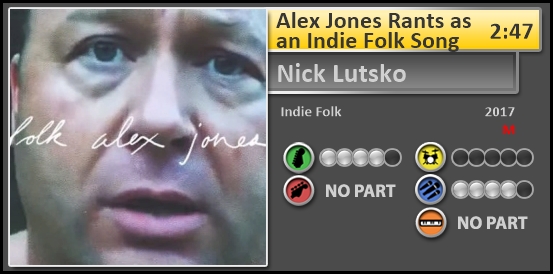 Nick Lutsko – Alex Jones Rants as an Indie Folk Song
Video Preview
I blame Nick Lutsko for making such a catchy song about someone I despise. It gets frequently stuck in my head, so I decided to chart it.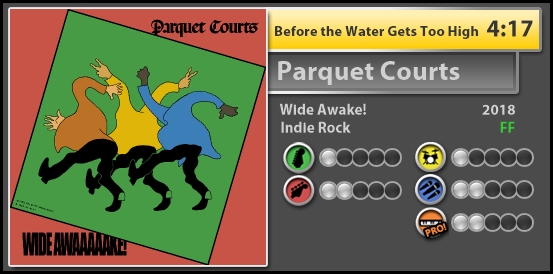 Parquet Courts – Before the Water Gets Too High
Video Preview
Jphn and yaniv297 released a huge pack of Parquet Courts songs recently, and I couldn't be happier! I was even more happy when I saw that they didn't release Before the Water Gets Too High that I've been sitting on for quite some time. 😀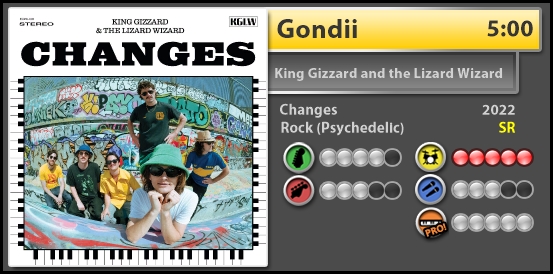 King Gizzard and the Lizard Wizard – Gondii
Video Preview
It wouldn't be a party without a KGATLW custom! Changes is probably my favorite album of theirs since Polygondwanaland (2017) and yeah… there's been 10 albums since! I'm also working on the opening track, Change, which is 13 minutes long.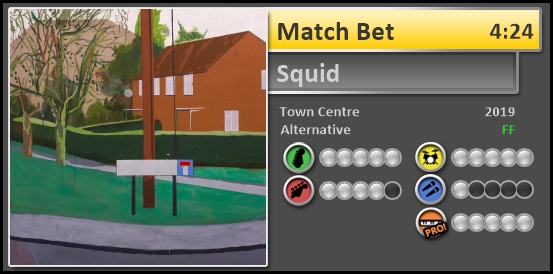 Squid – Match Bet
Video Preview
Squid has quickly become one of my favorite bands. I have their album Bright Green Field on repeat. There are so many layers of sound and drone moments that some songs are ill-fitted for Rock Band, at least in my opinion. That's why I chose Match Bet from their EP as my first custom for this band, but I will probably chart more in the future.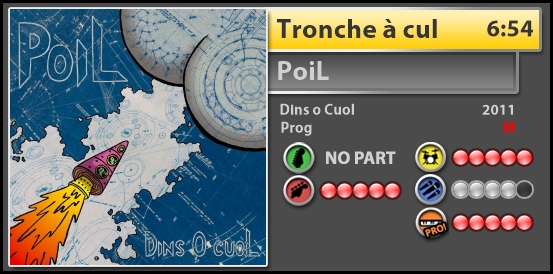 PoiL – Tronche à cul
Video Preview
Ahh, this song… It's been in the works since late 2020. Sheep helped immensely with the pro keys chart. It's a fun song, but a mess to chart. It has 106 time signature markers and I spent countless hours on that song as a whole… but it should be a fun experience on every instrument!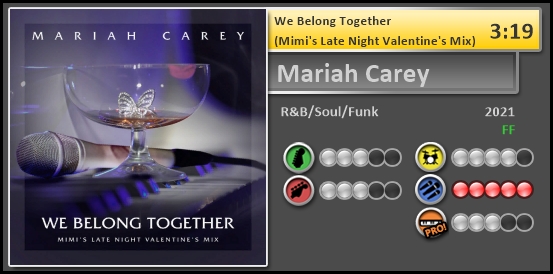 Mariah Carey – We Belong Together (Mimi's Late Night Valentine's Mi
Video Preview
If you think this song is a bit out of character for me, well… You're not wrong! It's a personal request from my fiancée who wanted a challenging song to sing. It's challenging all right, as I've never seen so many slides in one song (266 "plus" signs). I planned to only author vocals then figured "what the hell" and made it full band.

That's it for me, have a happy new year!
AddyMilldike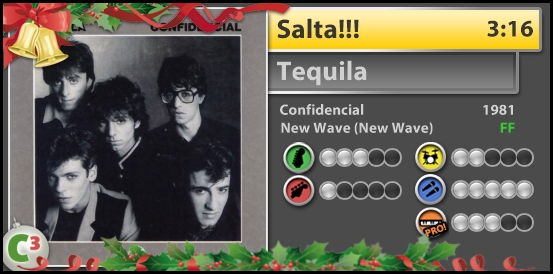 Tequila – Salta!!!
Video Preview
"Salta" means jump in Spanish, and with this single by Tequila I wish you all the best as we jump into 2023 with a catchy riff and tricky guitar solo that kind of comes out of nowhere. If you can't get it, perhaps consuming more tequila will help!
EdTanguy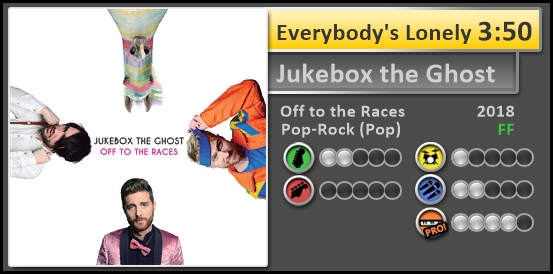 Jukebox the Ghost – Everybody's Lonely
ThreeAreEss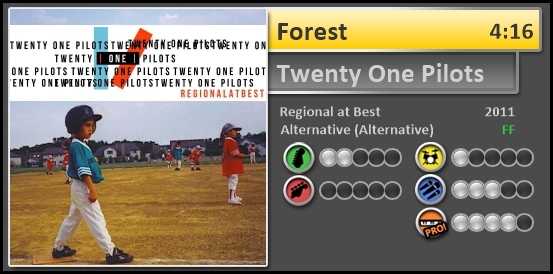 Twenty One Pilots – Forest
While Twenty One Pilots' Regional at Best may not be on streaming services, you can certainly play one of the highlights from that record with this nifty custom!
GhostByob


The Bangles – Be With You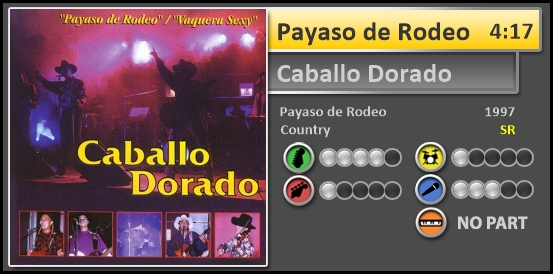 Caballo Dorado – Payaso de Rodeo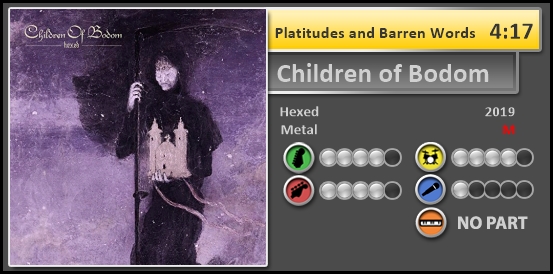 Children of Bodom – Platitudes and Barren Words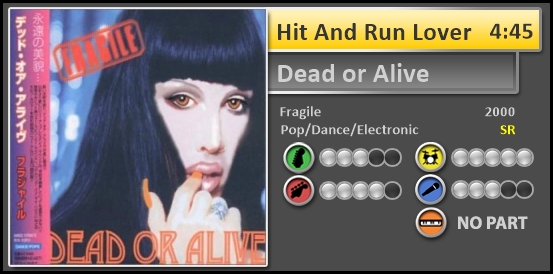 Dead or Alive – Hit and Run Lover
fbs13


LIA LIA – I'm a Moth!!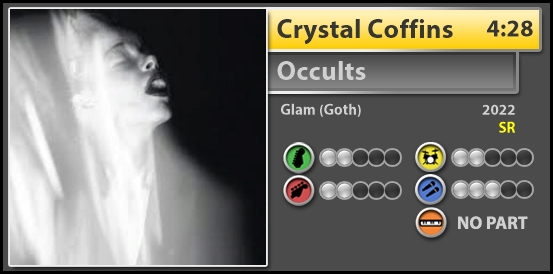 Occults – Crystal Coffins
MrPrezident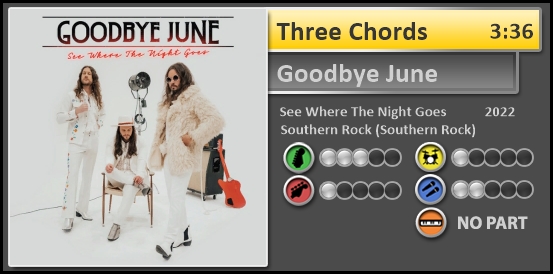 Goodbye June – Three Chords
Video Preview
Goodbye June is a killer rock and roll band from the pacific northwest, they sound like AC/DC and that's fucking awesome. Rock on, Happy New Year from Mr Prez.
Yaniv
Thanks jphn for creating edited endings where applicable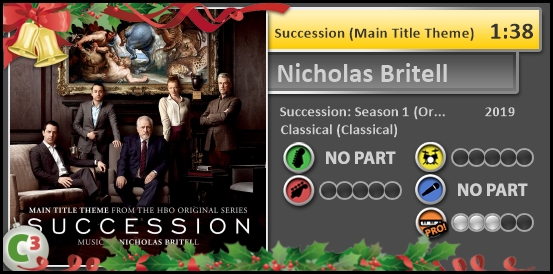 Nicholas Britell – Succession (Main Title Theme)
You might know HBO's Emmy-winning drama/comedy Succession – one of the great shows of recent years. If you watch the show, it's almost guaranteed you had that main theme stuck in your head more then once. It's one of the most epic and recognizable TV themes in recent times, and now you can play it in your game too!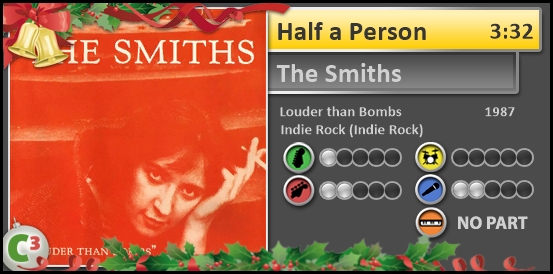 The Smiths – Half a Person
On 12 Days of Christmas 2 years ago, we've debuted our Smiths project with a pack of Smiths songs. One year ago, as a part of Chart-a-thon we've released Smiths 03, a mammoth 22 songs affair full of Smiths classics. This time around there's no Smiths pack, but I didn't want to leave you completely Smithsless, so here's "Half a Person" – another one of those great Smiths b-sides. A somber and classic Smiths ballad, and one of their most underrated tracks in my opinion.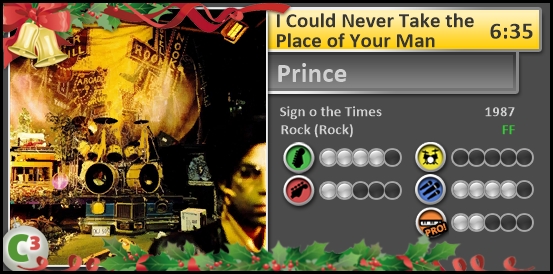 Prince – I Could Never Take the Place of Your Man
Prince surely needs no introducing – an absolute icon and genius of music. Prince was also a phenomenal guitarist, even though he rarely showcased it on his albums. "I Could Never Take the Place of Your Man" is an excellent song in his own right, catchy, fun and funky – but it's mostly known for the extended guitar jam on his second side, where Prince absolutely brings the house down with his playing. So go jam with one of the greats!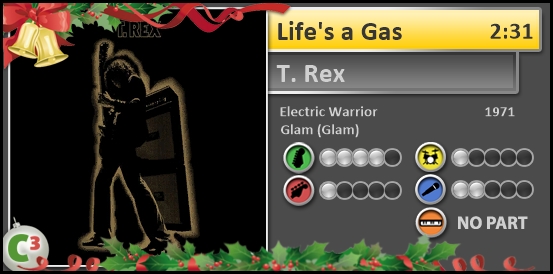 T. Rex – Life's a Gas
Electric Warrior is one of those classic rock albums, and "Life's a Gas" is an absolutely beautiful tune from it! Melodic, optimistic with some great guitar playing (and some surprising guitar shredding at the end), it's another classic of music and a worthy addition to your library.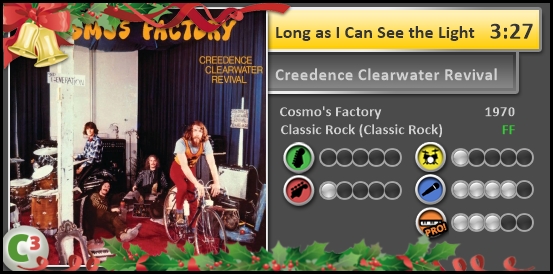 Creedence Clearwater Revival – Long as I Can See the Light
Finally, I'd like to sign off my part in the event with another classic rock tune. Creedence surely needs no introducing, an absolutely classic band, and "Long as I Can See the Light" is the beautiful closer to their classic "Cosmo's Factory". It's pretty chill on most instruments, but contains a great saxophone solo (very unusual for Creedence) charted to keys, and of course, if you're a singer you'll be absolutely singing your heart out for this classic anthem. So have fun!
Thank you all for joining us this season for our 12 Days of Chartmas. Enjoy the new customs and enjoy the rest of your year! Here's to 2023 and a new year of awesome customs!