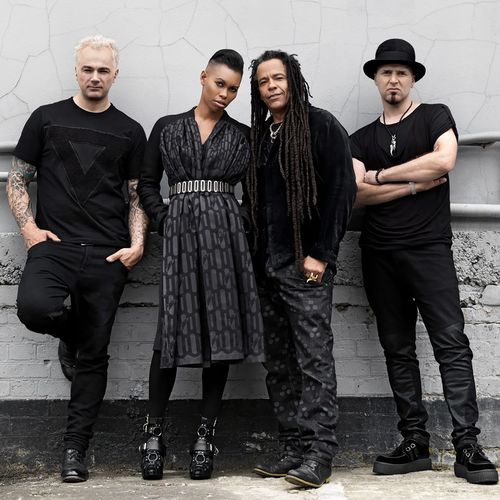 Somehow regarded as a one hit wonder of the 90s with "Weak" from their debut album, Skunk Anansie are still making music, including a single this year. Yet there is no in-game representation?
Well finally, here are a few of their best hits. My dad had the album Stoosh from 1996, so 4 of the songs are from that album: Infidelity, Brazen, Hedonism, and Twisted; all of which have parentheses, (Only You), (Weep), (Just Because You Feel Good), and (Everyday Hurts). I guess those chorus phrases are what people will search for when they try and recall the song?
Infidelity, Brazen and Hedonism are actually quite soft sounding songs compared to the bands punk stylings and themes of Sex, Religion, Feminism and Racism, But ballads certainly sell.
Obviously I had to add "Weak", but they had such a long career, what else do I add? I own their Acoustic CD+DVD which had "Because of You" but I couldn't see which album it was on.. Because it actually first appeared on their Greatest Hits! I suppose often bands add a new single on there to sell the album to people who already have them all, but this one goes hard so it really stands out.
Listening to their 2012 album, I really enjoyed the sound of "I Believed In You". It had the vibe of those 2006-2008 Brit Rock bands I loved, and was fast tempo, something this pack was missing despite having a lot of up-tempo songs.
And to add something from their latest album, I chose Bullets because It again reminded me of something like Grounds For Divorce by Elbow. Steady beat, heavy bass.. Also the lyrics everywhere are wrong. I could clearly hear the lyric sites were wrong, and managed to find a behind the scenes video of her talking about the song and her favourite lines, so that helped haha.
And finally thank you very much to TomGuy who helped me from burning out by finishing a few of these songs by adding lower difficulties, practice sections, phrase markers, OD markers, dryvox, and doing some amazing venues.
So that's it. There are plenty of good songs I didn't do but it's a start. I hope you enjoy playing them 🙂