Releases
Presenting the 6th Annual Canada Day Customs Pack!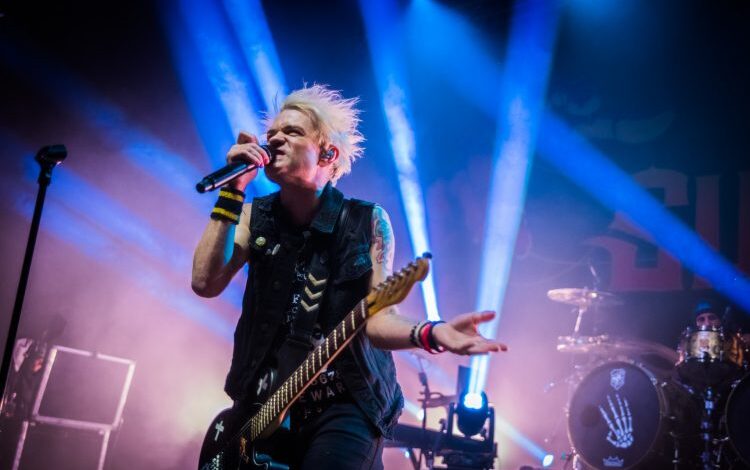 Welcome back! I am very proud to host the 2022 Canada Day customs pack, brought to you by SomeOldGuys and Friends. This tradition started back in 2017 when a small group of Canadian authors got together to create a pack focusing exclusively on our country's diverse musical spectrum, to introduce our favourite artists to a wider audience. Some of us just wanted more of the music we grew up with to be available in the game. '22 continues the tradition of bringing our friends and collaborative partners together to celebrate Canada's national holiday. We have customs from Devomeister, AddyMills, Yaniv, Fujiskunk, EzloDQ, and the SomeOldGuys charting group (IaSG14, Jksrb, RubyDanger, hardcoredrummer, Spindoctor, and yours truly).
On with the show!
Yaniv writes:
Canada Day is an excuse to revisit some of my favorite Canadian artists, and it's pretty obvious who they are at this point! Both Neil Young and Arcade Fire are artists I've charted extensively in the past, but both have such great catalogues that there's always more great songs missing. So time to fill some of their missing heavy-hitters!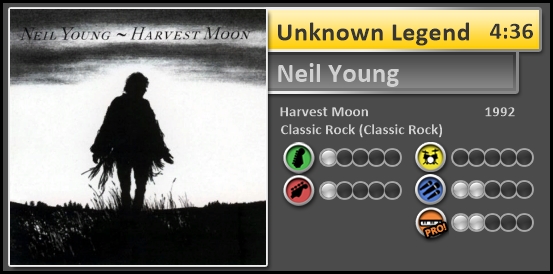 Neil Young "Unknown Legend"
"Unknown Legend" is the opener of Young's infamous "Harvest Moon" record, his most successful post 70's album. Even though it was never released as a single, it's still very recognizable and has became one of Neil's biggest songs, featuring in many of his live performances (including his acclaimed "Unplugged" set). Musically, it's an absolutely lovely song that Neil wrote for his wife, and it features some lovely pedal steel and harmonica as you would expect. So be sure to add this one to your valentine day playlists – perhaps alongside "Harvest Moon" itself.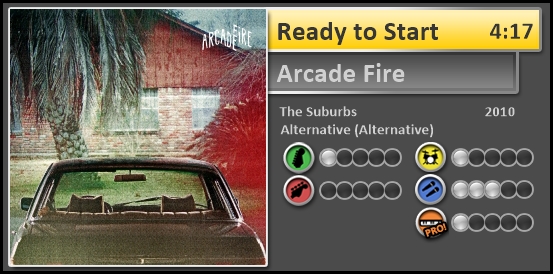 Arcade Fire "Ready to Start"
"Ready to Start" was, if we're being honest, a glaring omission from our previous Arcade Fire tracks. A signature song from the "Suburbs" album, "Ready to Start" is one of the Arcade Fire's biggest bangers, a staple of their live shows (often as a show opener – as the title implies…) and a huge indie anthem. It features an addictive drum beat, and a huge sound all around with some of Arcade Fire's signature harmonies – and it's really just a great song.
Fujiskunk writes: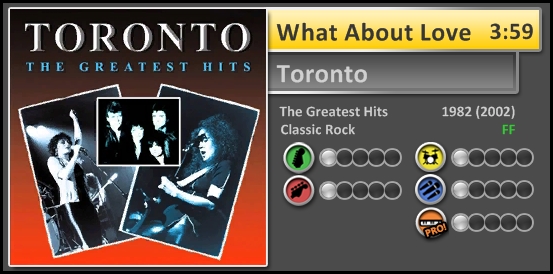 Toronto "What About Love"
Yes, this is the same song as Heart's big hit. Originally written by Brian Allen, Sheron Alton and Jim Vallance, "What About Love" was intended to appear on Canadian band Toronto's 1982 album Get It on Credit.
Despite devoting studio time to the song, and despite Allen's and Alton's membership in the band, Toronto ultimately passed, leaving the song off the album and in the vault. Any fan of classic rock or '80s pop knows the rest of the story: Heart then recorded the song in 1985, released it on their self-titled comeback album, and dominated the airwaves with nearly half a dozen songs from the album making the charts, "What About Love" included.
Despite the song's eventual popularity, Toronto's recording would stay unreleased for another 17 years, possibly due to Alton's and Allen's departure from the band by the time Heart's version gained traction. Then in 2002, a greatest hits package featured the tune, after which a rerelease of Get It on Credit finally gave the song its proper place on a Toronto album. If you're a fan of the song or just a fan of the '80s, give this one a shot and hear what might have been had Toronto released their recording first.
EzloDQ writes: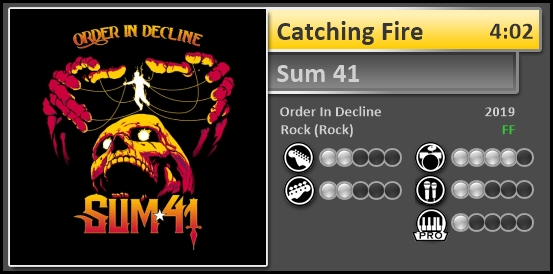 Sum 41 "Catching Fire"
Most people know Sum 41, or at least heard of them, through their breakthrough hit "Fat Lip". Though their sound may have changed since then, they are still making largely successful albums. "Catching Fire" from their most recent album, Order in Decline, features the more ballad-y side of Sum 41.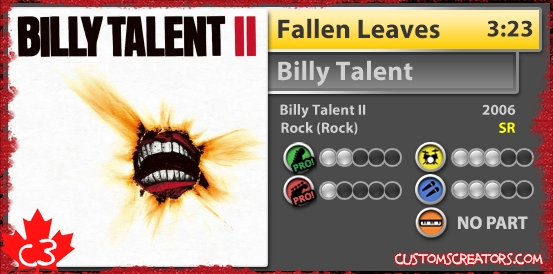 Billy Talent "Fallen Leaves" by AddyMills
"Fallen Leaves" may have been the first song of Canadian alt-punk band Billy Talent that you have heard, it is certainly their most recognizable hit from the band's second album. The band has since grown into a worldwide sensation. This song's intro is catchy and unique, the song has a fast energy to it despite the somber lyrical themes of losing a friend to drug addiction. AddyMills has created a complete rechart of the song, so be sure to download his updated version.
Devomeister writes:
I was very excited to participate in this celebration of Canadian music, since, despite not being Canadian myself, several of my favorite bands hail from our Northern neighbors. My plan was to highlight a song or two from each of these bands, but my efforts turned out primarily focused on one particular musician's work. That said, let's start with the other band that I managed to work in…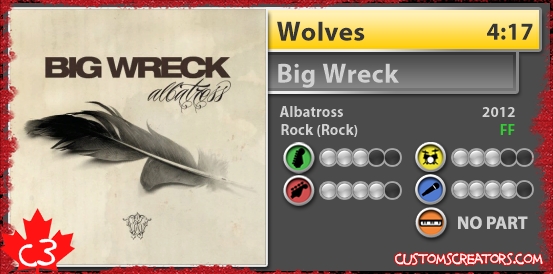 Big Wreck "Wolves"
I have actually been into Big Wreck since seeing them open for Dream Theater back in 1997 or so. I recall that, despite playing a wildly different kind of music from Dream Theater, they really played to the crowd. Ian Thornley used a different guitar for every song, and they played these long instrumental passages, just because they could, and I ate it up. I immediately bought their first album, and have been hooked ever since.
This is not the first song of theirs I charted, but it was always one I intended to do. It's just a beautiful song, with an incredible vocal melody that you can't help but sing along with. Ian Thornley is a guitar hero, for sure, but his voice is really spectacular, and this song absolutely highlights that. Unusually for Big Wreck, the guitar is not the star of the show here. It's a simple riff, layered with several guitar and mandolin parts to create a great musical landscape. I tried to pick out the most interesting bits for the guitar chart, and I really enjoy playing this one. I love the bass work on this song, as it's challenging and fun without being too much. Lastly, the drums are just a great little groove. For me, this is a perfect song for Rock Band.
The rest of this year's song are the work of musician Doug Harrison, and his bands Fen and Slug Comparison. The very first song I charted for Rock Band was actually a Fen song "Queen of the Mountain' off of their album 'Trails Out of Gloom'. Besides being a band who's music I truly love, the stuff is just perfect for Rock Band. I knew I'd be hitting Fen really hard when I began doing this customs stuff, and I imagine I'll be continuing that for years to come.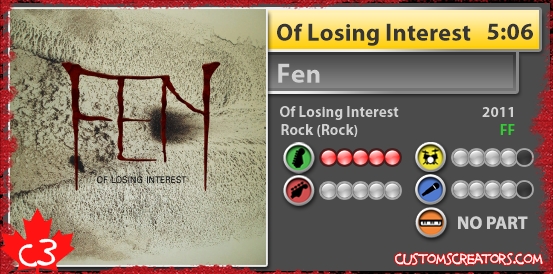 "Of Losing Interest" is the title track of their last album. I did it because it's a high energy, rockin' song with lots of interesting stuff going on. This one is pretty shreddy on guitar, more so than the other songs that I charted. The drums are a challenging track with a couple of "holy shit I'm going to fail" parts thrown in. The vocal melody is really fun, but not overly challenging on this one. And it's got a cool, prominent bassline that's fun to play (with a few shreddy moments thrown in as well). This is my favorite of the Doug's stuff that I've charted, and I absolutely love playing this on the plastic guitar.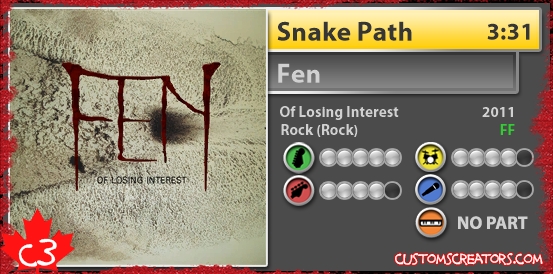 "Snake Path" I charted because I thought the intro riff was really cool. It turned out to be a much more challenging song to play on guitar than I expected. Partially because of the tempo, as it's very upbeat. The lyrics are fun, about a guy out for a hike surround by snakes, and the vocal melody is great fun to sing. I'm told this is a fun drum chart as well.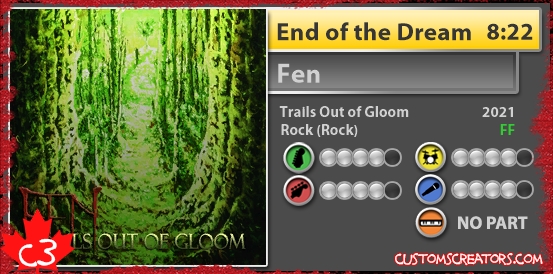 "End of the Dream" is a longer tune at about 7 minutes long, with lots of interesting parts. It's probably the most challenging of the Fen songs to sing, and it's also my favorite of the Fen ones to sing along with. The guitar is filled with solos, and it's got a great bass line, and like the other Fen songs, the drums are challenging, but not overwhelmingly difficult.
Slug Comparison is Doug's side-project from Fen, as he and Fen co-writer Sam Levin can't get together as often as the years have gone by. But Doug just keeps writing, so we get a Slug Comparison album every now and then.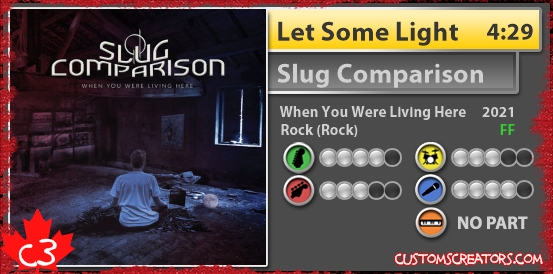 "Let Some Light" is off his 2nd Slug Comparison album "When You Were Living Here'. Besides just being a great song, I chose to chart it because I can play most of this on a real guitar so I figured it'd be easier to chart for RB. I was wrong, but I'm so happy with the way it came out. The acoustic strumming feels good, the bass is fun, and like the Fen stuff, the drums aren't crushingly hard but stay interesting and fun to play. It's a wonderful vocal chart, but tough to nail. Doug has a great voice, and chooses some unorthodox vocal melodies.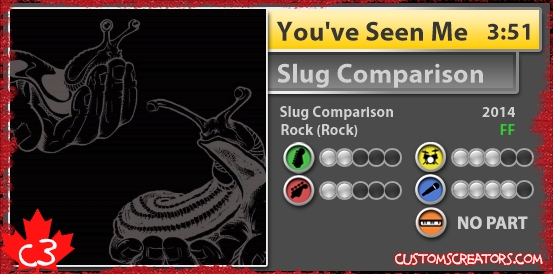 "You've Seen Me" I kind of wanted to do a slower track. I enjoyed the vocal melody for this one, though, it's a bit much for me to sing the high stuff. It's much less busy on the instruments than the other stuff I charted. The guitar is fun, the drums are pretty basic save for a few fills (but I think the off-time ride bell in the outro is cool), and the bass is pretty streamlined. Still, I really enjoy this one as a laid back, fun song.
Anyway, thanks to the SOG guys for letting me piggyback with their event! Thanks to EzloDQ (as always) and hardcoredrummer for the great drums feedback.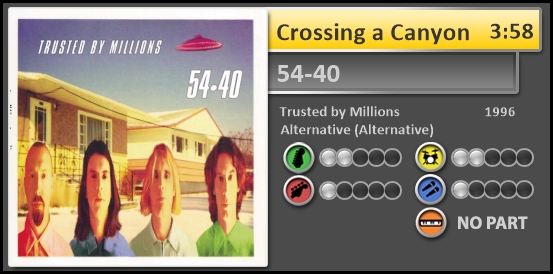 54-40 "Crossing a Canyon" by SomeOldGuys
One of Canada's most celebrated and award-winning bands, 54-40 return to the Canada Day festivities with one of their biggest hits from the mid 90's, a staple of their live shows since its release.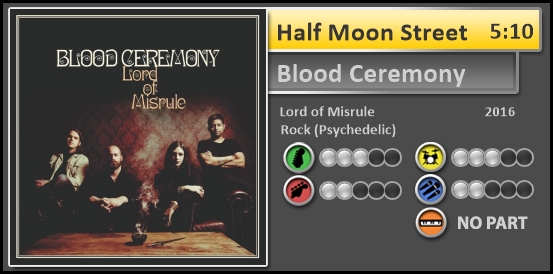 Blood Ceremony "Half Moon Street" by SomeOldGuys
Every chord, beat and whisper from Blood Ceremony harkens back to an earlier age when paisley and peyote ruled supreme, and leather fringe wasn't just for your Dad's old biker jacket. Their fixation on 70's hard rock structures, Sabbathian riffs, and psychedelic fury is undeniable, and Blood Ceremony always make it look and sound easy. Everything old is new, again.
Doucette "Mama Let Him Play" by SomeOldGuys
Sadly we said goodbye to singer Jerry Doucette earlier this year. This song was originally charted by myself, TheWay, Crazy Canuck and Spindoctor. This is a full rechart based on the original custom, with new audio, map and charts for all instruments, and a new ID.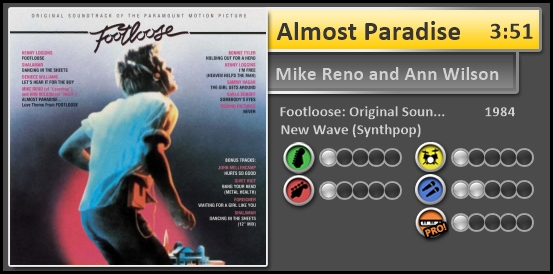 Mike Reno & Ann Wilson "Almost Paradise" by SomeOldGuys
Long overdue love ballad from Footloose, its one of those enduring songs that sounds good in any decade. Loverboy's Mike Reno and Heart's Ann Wilson sing their iconic duet about enduring love, a great mid-setlist cool-down song.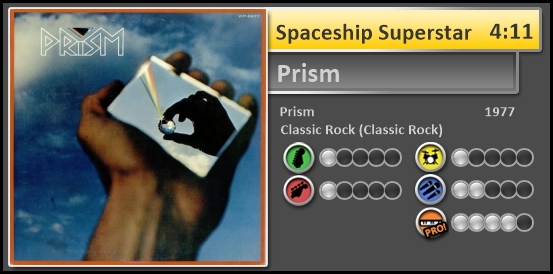 Prism "Spaceship Superstar" by SomeOldGuys
The second song in this days' events that was written by Jim Vallance (What About Love is the other) and performed by Prism for their 1977 self-titled album. Possibly one of the most famous Canadian rock songs from the 70's, best known for the synth riffs and the lyric "Solar powered laser beam guitar".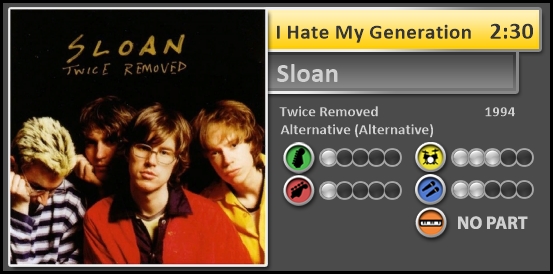 Sloan "I Hate My Generation" by SomeOldGuys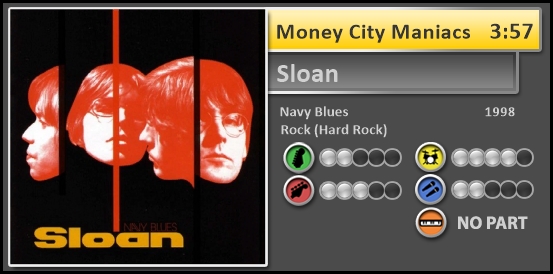 Sloan "Money City Maniacs" by MrPrezident & SomeOldGuys
Another track from Twice Removed for your collection, and a full rechart of "Money City Maniacs" for your rock enjoyment.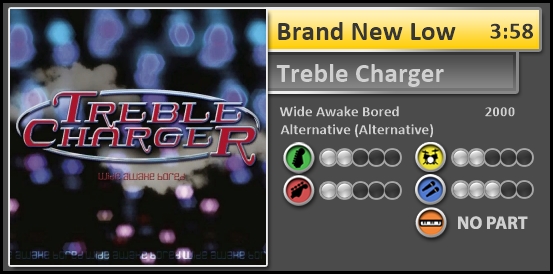 Treble Charger "Brand New Low" by SomeOldGuys
When Treble Charger finally peaked the band had to compete with the likes of Moist, 54-40, Matthew Good Band, Our Lady Peace, Big Wreck, Econoline Crush, Finger Eleven (and the list goes on). When 'Wide Awake Bored' was released, pop-punk was not yet at its pinnacle, but Canada was no exception to one of the fastest growing genres of music, and Treble Charger found mainstream success (at least in Canada). "Brand New Low" was the second single from the album, following "American Psycho".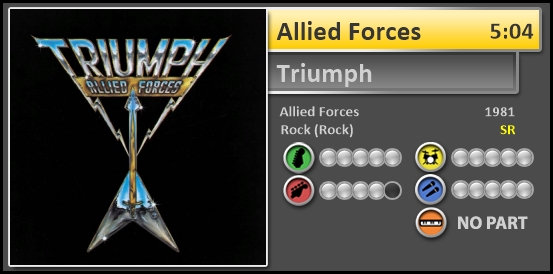 Triumph "Allied Forces" by IaSG14 and SomeOldGuys
Huge thanks to Jksrb and IaSG14 for their work on this hard-rock classic from Triumph.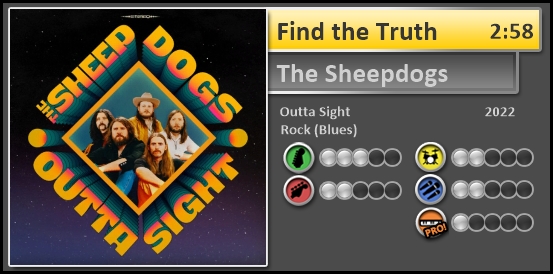 The Sheepdogs "Find the Truth" by SomeOldGuys
Well it just wouldn't be Canada Day without something from the boys! Their latest album "Outta Sight" is another terrific addition to their catalogue of Skynyrd-esque southern fried rock'n'roll.
Dear reader, on behalf of SomeOldGuys and Friends, we hope you have a safe and happy Canada Day! See you in '23.