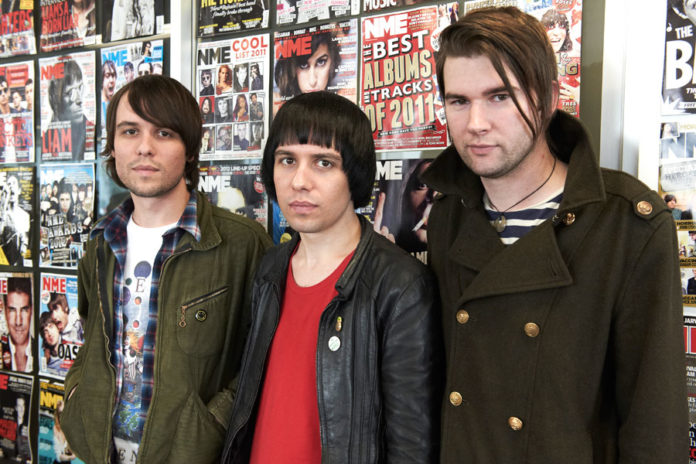 Hey everyone! Kamotch here. Since my Chart-a-thon post covered most of what I'd normally start with, let me just say that I'm keeping my charting train a-rollin'. Just over a month after releasing my Modest Mouse and Modern Baseball 6-packs, I'm back with yet another 6-pack! This time its a band that will probably not be super popular among the general public, as is not uncommon with my releases.
The Cribs, I'm told, have a much bigger audience in the UK where they originate from. So this is mostly for those guys I guess. But if you're NOT from the UK and/or are unfamiliar with the band but like indie rock, check them out! Couldn't hurt, right? Hell, start by downloading these songs and trying them out! I'd say it's a pretty good representation of the band's career, but the most recent song in the pack is from 2013 and they're still putting out albums every few years so maybe that's not the case. At least this is a good representation of the first decade or so of their career.
---
You Were Always the One
Their first non-limited single released off their self-titled first studio LP. Very simple compared to some of their later tracks but still super catchy. Every live version of the song has the brothers Jarmen switching off lead vocal duties from verse to chorus, but I swear the album version it's the exact same voice throughout. They ARE twins (fraternal) so their voices are pretty similar, but I think I'd be able to tell the difference. Regardless, the drums are the standout instrument for this one.
Mirror Kissers
This album The New Fellas is where the band started to gain some traction in the UK indie scene. Their first single from the album, "Hey Scenesters" was the more popular song at the time, but this one has more views on YouTube so it managed to edge it out. It's also just a better song, but I know that's subjective. If you prefer the other song, it just might come eventually.
I'm a Realist
The final single released from their major label debut album Men's Needs, Women's Needs, Whatever. Being released on a major label in the US caused them to kind of clean up their sound a bit. Probably them at their most accessible. The first two singles from the album are both already available in the database (by myself and Ruck Bogers 22 respectively), so check those out as well if you've got the time. By the way, the song is Mature because they say "shit" a couple times.
We Share the Same Skies
So the last band I released tracks from was Modest Mouse who at one point had the legendary guitarist Johnny Marr in the band. Well after he left Modest Mouse, he joined up with The Cribs! He was only with the band for the duration of one album, but his contributions definitely helped change the band's overall sound going forward. This is not my favorite track from the album but it WAS included on the original Rocksmith setlist, so I gotta go for the overlap angle.
Glitters Like Gold
So this is the second song I've released that has been claimed to have been inspired by Guitar Hero/Rock Band (the first being "Stuff That I Like" by Bomb the Music Industry!, in case you're interested). But it's easy to see what they mean while playing the song on guitar. It's not a very difficult song to play, but boy is it fun! Also probably my personal favorite track of the pack to listen to. Oh and they say "fucks".
Leather Jacket Love Song
The Cribs released a greatest hits compilation album titled Payola in 2013. All of the songs included in this pack were included on the album, but this track is the only one that was previously unreleased. It bears a resemblance to a song off their first album called "Tri'elle". Completely different lyrics but a very similar chord progression. "Leather Jacket Love Song", having released much later in their career, has superior production value, but honestly both songs have their merits.
---
And there you have it! 6 more songs I charted for myself released to the public! I sincerely hope at least some people are excited about it haha. I had originally planned to continue with the 6-pack monthly trend going forward, but I want to release some smaller packs and/or singles on occasion too. Also I'm trying to come up with a plan for my 100th custom, but will need some time to think about it. So I wouldn't expect more than 3-5 songs next month. Anyway, until next time!
~Kamotch