Releases
Oh how we danced: A Tom Waits Megapack!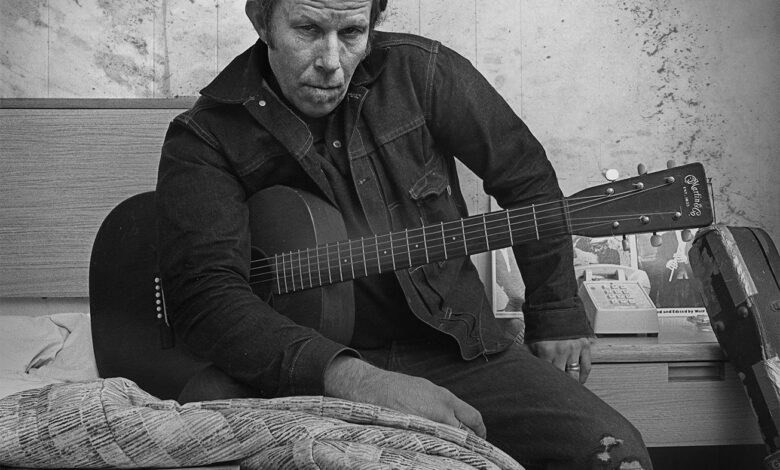 Hey everyone,
After several years here, and many packs dedicated to most of my favorite artists, I felt like it's time to approach one of the biggest ones.
Tom Waits is a true legend of music. Since the 70's, he's been one of the most consistent and original musicians around, and one of the great songwriters of our times. He began his career as a jazz-influenced piano-based singer-songwriter, known for his raspy voice and late-night bar feel, and his frequent drinking. In the mid-80's a now-sober Tom Waits changed his style to something completely his own, and pretty impossible to describe with words (though "sounds like a broken theme park" is my favorite attempt yet). All I can say, it's incredibly original, surprising, and beautiful, and often includes very surprising instrument choices.
Waits is also one of the greatest lyrics writer in recent years, his songs often portraying pictures of loners, losers, poor, addicts, and other characters on the streets. He released an incredible collection of albums, from his early piano classics, to his infamous 80's trio, which includes "Rain Dogs" – considered by many to be his masterpiece. Waits has continued to make phenomenal music in the next decades, with many of his best-loved songs written in his 50's and 60's, and he's one of the most consistent songwriters in history.
Many many thanks to Ungrateful Dead, who was my partner in this project and contributed to 3 songs here (plus previously charting the great "Jockey Full of Bourbon", sparing me the need to chart it myself!).
So, let's begin!
"Underground" was the song that introduced the new Tom Waits to the world. The opening track from 1983's "Swordfishtrombones", the album in which Waits first fully-embraced his new experimental style, "Underground" is fairly minimalistic in its approach, led by a phenomenal lead guitar track, a simple floor-drum rhythm, a marimba and a trombone, with Waits spitting/shouting/barking/whatever you call his singing on top. Compared to what'll come later, it's almost conservative, a "soft introduction" to the new Waits, as the lyrics seem to summarize much of what Waits wrote about in his life: "there's a world going on underground".
The almost-title track of this album tells another classic Waits story. Driven by a repeating line: "Well he came home from the war with a party in his head", this story tells the tale of a war vet who struggles with his life after the war, eventually ended up in prison, and in the last verse Waits acknowledged the whole story might be a myth, and concludes: "If you think that you can tell a bigger tale, I swear to god you'd have to tell a lie". Musically, the song is driven by marimba, some percussion and upright bass, each of them playing a nice role in this classic Waits song.
Opener of "Rain Dogs", regarded by many as Tom's masterpiece, "Singapore" is an undeniable classic in his catalog. "Singapore" was described as an "adventure song", or to use Waits specific words: "Singapore is kind of like Dick Burton in Taiwan and he can't get a drink". Add a bit of pirate vibes and lots of terrifying imagery, and there's "Singapore". The song is also known for his percussion – Waits was unsatisfied with the drum sound, and refusing to use samples that were so common in the 80's, instead they opted to repeatedly hit a chest of drawers with a two by four hammer – which is the "drums" you'll be playing the song.
Custom by Ungrateful Dead. Vocals by yaniv297
Greasy, revolting, and morbidly humorous: Cemetery Polka is an extended deep dive into the Waits' family tree, painting a portrait of avarice, perversion, and backstabbing as Waits climbs his way down each and every branch. Ostensibly a song about the things only family could say behind each other's backs, the song is given life by Waits' gravely vocals and an instrumental track that sounds as though the band is literally falling apart at the seams. Despite clocking in at only a hair over a minute and a half the song is still held up as one of the finest examples of Waits' unique compositional style and lyricism.
Another classic from "Rain Dogs", "Tango Till They're Sore" is a piano-based tune, but unlike Tom's early ballads, "Tango" is jubilant, drunk-sounding, barely in tune, and yet so glamorous. It's about a guy who wants to die partying, or is it? according to Waits it's about "guy who falls out of a window on New Year's Eve, and the only thing that breaks his fall is that fact that he has a little confetti in his hair". Whatever it is, it's phenomenal, it contains one of Tom's all time best refrains – "I'll tell you all my secrets but I'll lie about my past", and contains a pro keys chart that was a fucking nightmare to make, so I hope you enjoy it.
Many thanks to Kloporte for charting that keys opening! I would literally never be able to do this custom without him. The phrase "Rain Dogs" refers to dogs, who can't find their way back home after the rain has washed away their urine and it's smell. But for Waits, "Rain Dogs" is an umbrella term for everyone he's singing about: in his own words, "people who sleep in doorways. People who don't have credit cards. People who don't have eh, y'know, a mortgage, y'know? People who… are going down the road eh, y'know?".
Musically, it's a brilliant upbeat track, with groovy drums, phenomenal rhythm guitar by the legendary Marc Ribot (who we'll meet again in this pack), and a great chorus. Just another classic by Waits.
Moving on to "Bone Machine", Tom's 1992 dark masterpiece, a rough, stripped-down, percussion-heavy album known for its dark lyrical themes revolving around death and chaos (even though most of the real dark shit – "Dirt in the Ground" etc – isn't in this pack). "Who Are You" is one of the relationship-oriented songs on the album, but it's still dark, and it features Waits in his most hurt and vulnerable, especially in the climax, where he almost cries: "You better get down on the floor, don't you know this is war… tell me, who are you this time".
Custom by Ungrateful Dead. Vocals and bass by yaniv297
"My friends think I'm ugly, I got a masculine face," Waits sings against the pounding of drums and the murky soundscape of guitars. Following the perspective of a rugged protagonist with dreams of the open road and stardom, "Goin' Out West" chronicles his journey out west to the land of Hollywood. Raw, masculine, and overtly domineering, with just a hint of the grimy underbelly that characterizes Waits' work, "Goin' Out West" is a must-have staple of any body of Waits' work, and is exemplary of his uncanny ability to build intriguing characters out of nothing but dirt and bourbon.
Still on "Bone Machine", "I Don't Wanna Grow Up" is a restless stomping tune who's title describes it precisely. Famously covered by the Ramones, this is a tireless song where Waits sings of his fear of growing up – sung from the point of view of a child who views the adult world for all it's simple reality – the suffering, greed, disappointment, addictions – and simply wishes to never become that. It's beautiful, horrifying and at the same time just fun and silly.
Custom by Ungrateful Dead. Vocals by yaniv297
The leading track of the seminal Waits' album Mule Variations, Big in Japan leads into the album with the feral untamed percussion of Waits' yelps and screams beating against the smooth licks of Les Claypool on Bass and brought altogether by the squealing of Ralph Carney on horns. Self-evangelizing and self-depricating in equal parts, Waits sings about his admiration for what he describes as "a junkyard for entertainment," where even bygone celebrities can find revitalized success. Of course, this all begs into question: Is Waits big in Japan? Well, when asked about it in a 1999 interview, Waits was quoted as responding "I see myself in the harbor, ripping up the electrical towers, picking up cars, going in like Godzilla and leveling Tokyo." I don't know if that really answers the question, but it is just about the most Tom Waits answer you could give.
Written in 2004, "Hoist That Rag" is considered to be one of Tom's career highlights, and is regularly considered by fans to be among his greatest songs. A dark, scary and weirdly groovy song about the horrors of war, with particularly dark, even apocalyptic imagery through – "smoke is blacking out the sun, at nights I pray and clean my gun". Waits is in top form here, but arguably the real star of the song is guitarist Marc Ribot – which plays a phenomenal, groovy, once-in-a-lifetime guitar solo that's absolutely great in the game. So have fun with this great song.
That's it! If you want more, make sure not to miss previously released Tom Waits customs:
–"Jockey Full of Bourbon", the classic "Rain Dogs" tune with a stellar Marc Ribot solo, charted by Ungrateful Dead.
-"Downtown Train", the closest Tom Waits ever got to a hit single – famously covered by Rod Stewart who made it a big hit (when asked about his opinion, Waits said he liked it because "Rod Stewart paid for my swimming pool"). Charted by me (yaniv).
-"Way Down in the Hole", the classic 1987 song who's famous for opening "The Wire". Charted by Nunchuck (unpitched vocals).
-"Make It Rain", another one of Tom's late-career classics, a brilliant blues tune with some great guitar work too. Charted by yaniv, vocals by BornGamerRob.
That's it for now! Waits has a never ending discography and everywhere I look I see more songs that could/should have made it in game. But you have to stop somewhere, and we're happy to bring in some very serious RB representation to this legendary musician.
We hope you've enjoyed it, and see you in the next release 🙂