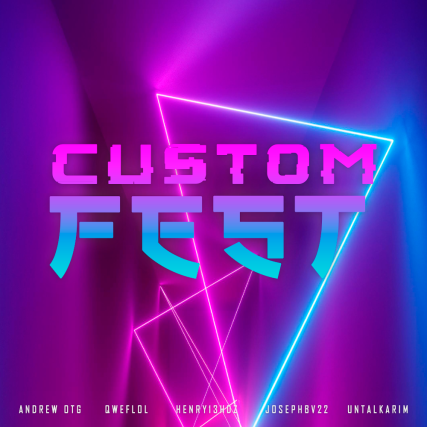 What we did in this event, was practically put together several artists and launch billboards of varied content, that our public could enjoy, that's how we started with this event.
"The custom fest, for me, was a great way to deliver content to the public.
I had the idea of making another album release of "División Minúscula" but I liked the idea that just as I like this band, other people have other music tastes, so doing a festival of various artists sounded like the best idea to do.
I think this was totally a team effort, I remember writing to Karim, telling him some ideas that I had in my head (some a bit absurd) but it was the moment when we chose to do something like a billboard in which we would have several artists , some chosen by us, and others that caught the attention of community. After having an idea of ​​what we were going to do, I spoke with the Rock Band en Español team, it was when then they were excited about the idea, and thus, together we were able to build these 3 release dates, in which they were customs about which we work and test them all together." (andrew etg)
"It has been the best event so far that I have worked and the best experience in working with everyone in the community to bring more Spanish songs to everyone" (Qweflol)
"We have been planning this for months, a list of songs from different music genres with an specific topic, but being honest, I never thought this would be so vast, charters of "Rock Band en español" comunnity is kind of small but they work tiresly because they are truly passionate.
The date was set by Andrew's birthday and mainly because he was the leader of the proyect, At first we aim for about 20 songs (División Minúscula + few requests) but others charters began to join the team in order to do this event bigger, and so it was.
Each charter has his own favorites music genres so we tried to gather up new famous artists/musicians as old ones, like pop, reggaetón, alternative rock, folk metal, ska, latín R&B among others." (Karim)
"Working on this project was very entertaining, the custom fest was organized between authors and Rock Band fans, more specifically in the Latin public … the idea was to launch a short list of songs requested by the community, with the advancement of time Authors added, thus managing to collect more songs for this event, it is a pleasure to be able to please our public by launching these songs, since they are very popular themes that for any player it is a pleasure to be able to enjoy in this game that unites us so much; Rock Band. We hope you like the content, and possibly launch another project like this next year…" (HenryHdz13)
"It's always amazing to see authors joining together and working on an event! Also it's cool to see more songs on spanish getting added into the game." (Delk)
Song List In This Event:
División Minúscula: Defecto Perfecto full album
Juan Luis Guerra:
-La Lave De Mi Corazón (and portuguese version)
-Medicine For My Soul
-Abriendo Caminos (feat. Diego Torres)
José Madero: La Celula No Explotó
PXNDX: Doble Gracias
Sebastia Yatra: Pareja Del Año (feat. Mike Towers)
Allison:
-Luna Amarga
-Tú
-Me Cambio
-Memorama
The Killers: The Ballad Of Michael Valentin
Mark Stoermer: Are Your Stars Out?
Bad Bunny: Yonaguni
Say Ocean: Amnesia
Mocedades – Eres Tu
Jotdog – Lluvia De Estrallas
Jesse & Joy: Espacio Sideral
Belanova: Por Ti
Chetes: Efecto Dominó
Chayanne: Humanos A Marte
Enanitos Verdes: Amores Lejanos
Hombres G:
-No Te Puedo Besar
-Marta Tiene Un Marcapasos
-Un Par De Palabras
Kings Of Leon: Supersoaker
Brandon Flowers: Jilted Lovers And Broken Hearts
DLD: Arsénico
Selena Gómez: Baila Conmigo (feat. Rauw Alejandro)
Prince Royce: Darte Un Beso
Mago De Oz: El Lago
Liquits: Marta Tiene Un Marcapasos
Volován: Te Quiero
Charly Black: Gyal You A Party Animal (feat. Daddy Yanke)
Finde: Largo Camino A Casa (Intoxicado)
QBO: No Más
Thell Barrio: A Toda Madre
Fobia: Hoy Tengo Miedo
Enjambre: Madrugada
Los Bunkers: Una Nube Cuelga Sobre Mi
Maldita Vecindad Y Los Hijos Del 5to. Patio: Kumbala
Hombres G – Enanitos Verdes: Un Par De Palabras Live
Plastilina Mosh: Peligroso Pop
Charly García: Inconsiente Colectivo
Cartel De Santa: Culon Culito
Love Of Lesbian: El Sur
Los Concorde: Rompecabezas
Esperando: (Esperando In Rock Band)
Catedrales: Nadie Decia Nada (Single Version)
Phoenix: Long Distance Call
David Bisbal – Juan Luis Guerra: Si No Te Hubieras Ido
Marco Antonio Solís: Donde Estará Mi Primavera
Jorge Celedón:
-4 rosas
-Esta Vida
-Ay Hombre
Sech: 911
Carlos Vives: Robarte Un Beso (feat. Sebastian Yatra)
Los Adolescentes Orquesta: Me Tengo Que Ir
TREKK: Regresión

You can search for the content here: https://db.c3universe.com/songs/all
To conclude, I would like to thank the entire team that joined, since thanks to them we managed to make a numerous launch, without their support none of this would be possible, in addition to a thank you to the entire community that gives us their support.
Authors/members who supported this project:
-andrew etg
-Qweflol
-HenryHdz13
-Karim
-Josephbv_22
-Delk
-El Fish
-TobioAtom