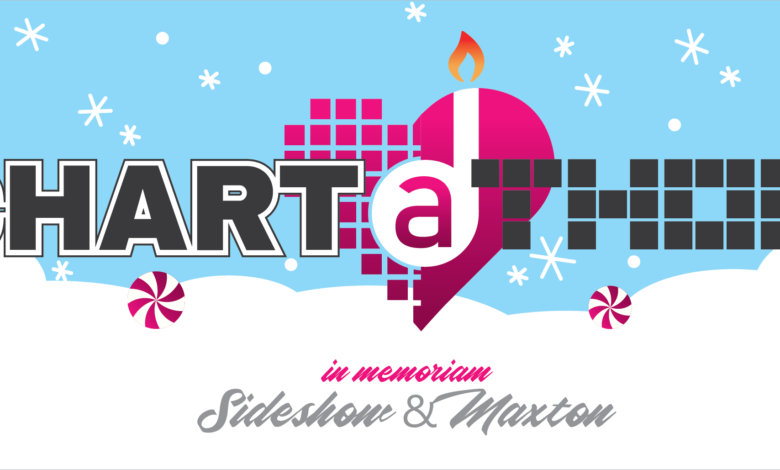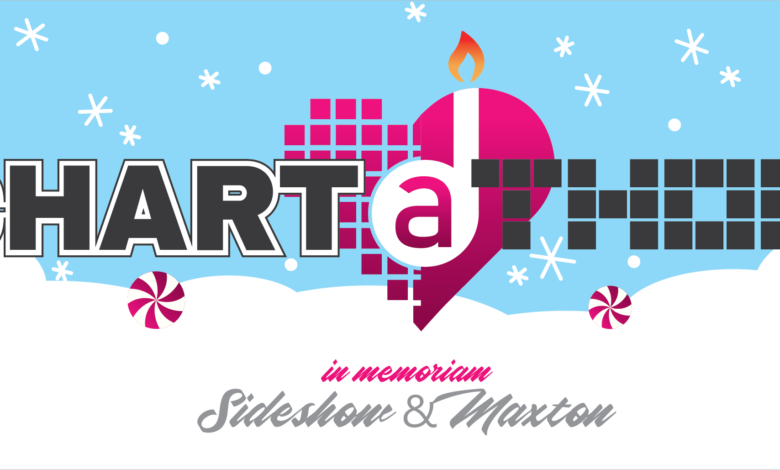 Season's Greetings, everyone! It is now December 1st and it's snowed a grand total of an eighth of an inch here in my home state so far, making it the driest year in a very long time. But that doesn't mean we can't still get into the mood of the end-of-year festivities. Whether you celebrate Christmas, Hanukkah, Kwanzaa, or whatever is meaningful to you, we have a fresh batch of customs, both holiday and non-holiday themed. Enjoy the early gifts and in the spirit of things we ask you please help others see another holiday season by donating to the cause at http://www.chartathon.com!
RongoIK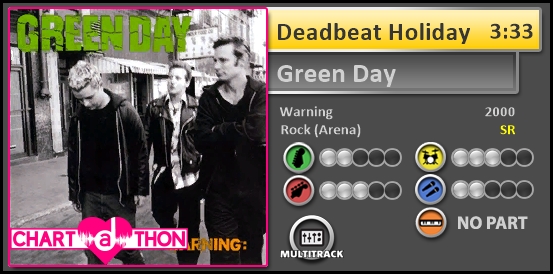 Green Day – Deadbeat Holiday
Preview Video

It's the holiday season! I have another little teaser for what content is to come from me this Chart-a-thon; please enjoy Green Day's "Deadbeat Holiday"! The title describes the song itself… I don't think there's much explaining needed. If you are just browsing, please check out the preview video generously recorded by Delk.
GhostByob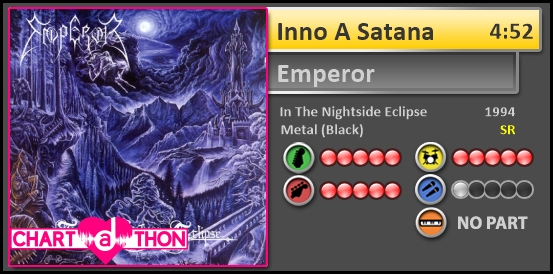 Emperor – Inno A Satana

Everyone is entitled to a Christmas, and the lord of darkness can enjoy it too!
Bansheeflyer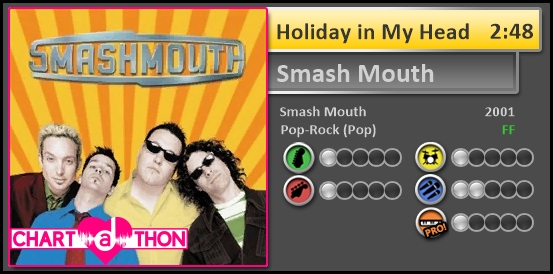 Smash Mouth – Holiday in My Head

Between the "Pacific Coast Party" release on the Kickoff day and today's release, Smash Mouth's self-titled album hit its 20th anniversary! To celebrate here's the leading single from the album which may not be about any specific holiday but still something worth celebrating this season!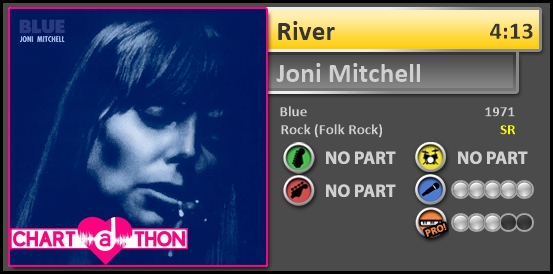 Joni Mitchell – River

There is an offensively large lack of Joni Mitchell in Rock Band… while she may not be the most RB-friendly artist, she has put out a lot of well-known hits from a series of critically-acclaimed albums that are absolutely worth charting. This iconic album has also hit an anniversary this year, having been released 50 years ago!

This particular song was written as many others were off the Blue album, pulled from a lot of personal difficulty Mitchell was facing during that point in her life. "River" isn't really about Christmas but it does use it as the setting for her grief over a failed relationship, distaste for the fame and the music industry, and longing for home in Saskatchewan.

As a note, I charted the pro keys explicitly to what is played by the right hand except for the last two notes. Otherwise the pro keys are 100% accurate to how Mitchell plays the right hand. If you want an experience that mixes both left and right hands, regular keys will provide.
MrBurpler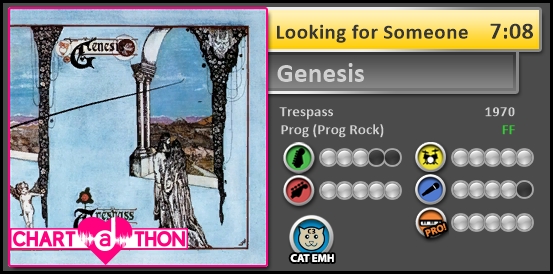 Genesis – Looking for Someone

Some classic Genesis. Although really the album before the "classic era". This song goes through those ebb-and-flows, which are a hallmark of a "classic era" Genesis tune. This number is almost a precursor to songs like "The Musical Box", which would come off their subsequent records. This song doesn't get the recognition it deserves, as it's very much in line with the prog-rock sound of mid-seventies Genesis. To me, this song (and the record as a whole) gets a bit overlooked.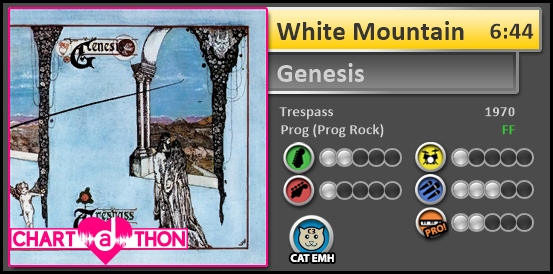 Genesis – White Mountain

This song is very moody, with keyboards that sound like the wind, and acoustic guitars that seem to be plucked ominously in the distance. It really gives you a sense of being (who'd of guessed it) on a mountain. This whole record has heavy use of acoustic guitars, with the electric guitars appearing only periodically for a majority of the songs. The heavy use of acoustics gives this record a different feel then the rest of their discography. This song in particular, is a perfect example of what I'm talking about.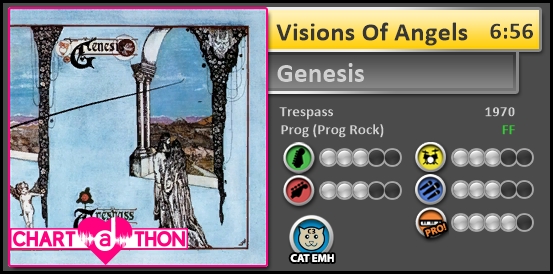 Genesis – Visions of Angels

More hints of that classic era sound, which "Looking For Someone" hints at as well. This song is basically a 3:30 minute song that is repeated twice, with a great crescendo at the end to cap off the number. Much like "White Mountain" however, what separates this track from a "typical" Genesis number is the heavy use of acoustic guitars. Some of the songs off this album have up to three (or more) acoustic guitar parts happening at the same time. It gives this record a very unique flavor. And it's even more interesting to note the evolution of their sound, when you compare numbers like this, to songs off of the 80s era of Genesis (not that I'm a Genesis scholar, I start to lose interest post "Wind and Wuthering").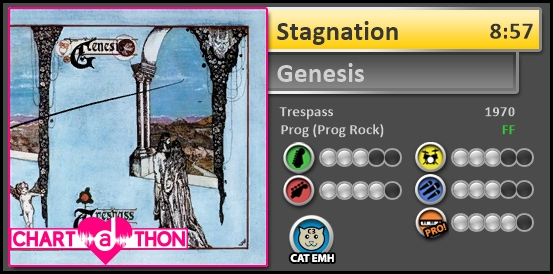 Genesis – Stagnation

Another track on here that I think gets overlooked. It's slow, dark and moody. Then when the drums come in, the rest of the instrumentation kind of lightens up. I tried to reflect this idea with the venue track, especially near the end of the song with the lyrics "I wanna drink". The 16th note hi-hats just propel that section of the song forward. Those moments in the song feel more precious and special since there are so few of them in the song. Much like the rest of the album (and really their discography) is a song that rewards patience. There's a theme here, where you can see the seeds of what makes Genesis Genesis, it's just that the song writing and musicianship are still being refined.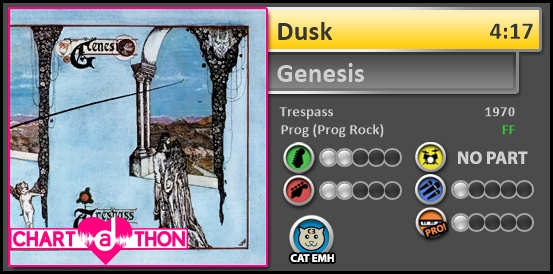 Genesis – Dusk

The mellow "chill out" song off the record. It serves a similar function to what Harlequin does off their follow up record. This song is almost all guitars, and no other instrument save for a flute in the bridge and a triangle that gets played periodically are present. Although technically there is percussion (the aforementioned "triangle"), there isn't enough here to justify a drum chart, as a result it's a drum-less custom.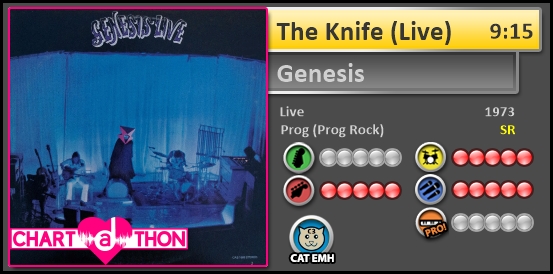 Genesis – The Knife (Live)

The heavy-hitter off the album. A song about going off to war and all of the "glory" that that entails "some of you are going to die, martyrs to the freedom, that I will provide". This isn't the studio version, as it was released a number of years ago (wow time really flies!) as part of the Genesis Project. This is the version off their first live album "Genesis Live". This version has the late great Phil Collins on drums, and he really punches up those drum parts. While the original drummer (John Mayhew) off this is record isn't bad, the performance is just very straight-forward. Where John would do a consistent drum roll, Phil would add notes, rests, double bass drum notes, and in general just add more flair. The whole song is better off for it too, as it (in my opinion) vastly surpasses the studio version. This version also has Steve Hackett on guitar, the replacement for Anthony Philips, who played guitar on the studio version. Again, much like the drums, the guitar parts are much more interesting, especially the guitar solo. This performance is truly Genesis going "balls-to-the-wall".
Thank you all for continuing to support the Chart-a-thon charity event and we hope you have a happy December with happy holidays! Stay tuned for another 30 days of awesome customs!