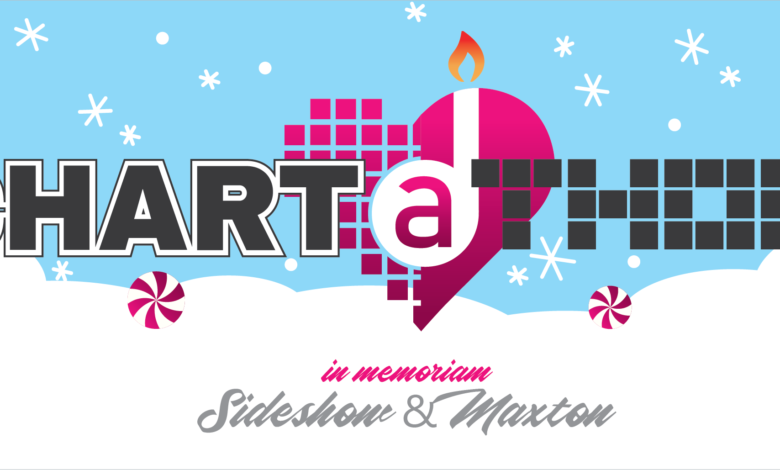 It's been over a month since we kicked off Chart-a-thon, and the absolute flood of content from this year's contributors has been overwhelming. With comprehensive releases from our best contributors for some of the greatest underrepresented artists in Rock Band, this last month has felt a lot like being a kind in the middle of the toy aisle. My Rock Band instruments have getting a whole lot of new wear and tear as a result, and at the time of me writing this the release I've been most excited about hasn't even dropped yet! Mercy!
But if you're unlike me and haven't found yourself suffocating in the sheer number of new releases, you may recall at the beginning of this year's Chart-a-thon event when I told you all about my extensive project to create a standalone setlist of various artists, decades, and genres. You can read more about it and download the first part of this release here.
Well I'm back now, and it is my great pleasure to be back to help bookend this wonderful charity event with a selection of 32 must have hits for your Rock Band library. From modern rock hits, 80's pop one-hit wonders, indie darlings, and beloved classics, this collection of songs has something to appeal to every kind of Rock Band fan.
Shred out to the iconic guitar work of Ritchie Blackmore with Deep Purple's "Knocking at Your Back Door," or the fast paced licks of Baroness's "Borderlines."
Want to put your drummer through their paces? The relentless aggro drum beats of deafheaven's "Sunbather" and Lightning Bolt's "USA is a Psycho" are sure to give even the best drummers a work out.
Or perhaps let your bass player take the spotlight role with the iconic slap bass riff of Kajagoogoo's "Too Shy" or the funky grooves of CAKE's "Sheep Go to Heaven."
All of these include pro keys and harmonies where applicable, so don't forget to tag your buddies in for the great harmony sections of Car Seat Headrest's "Bodys," or ABBA's "Waterloo," and let your keyboardist stretch their fingers with the energetic "Take Your Mama" by the Scissor Sisters.
And of course, in light of this year's theme, be sure to take the opportunity to let your bandmates know how important they are to you with Andrew Gold's "Thank You for Being a Friend."
These are just a few of the many great selections available in this dynamic release, full of party favorites and hidden treasures. So let's stop beating around the bush and get to what you've all come here for. Here's the full list of titles included in this release:
For every song you download as part of Chart-a-thon 2021, we ask that you consider donating $1 to the American Cancer Society at http://www.chartathon.com/. That's half the price of buying an official piece of Harmonix released DLC and it all goes to a good cause.
Thank you to everyone who have donated their time and money to making this Chart-a-thon a massive success. Although we are approaching the end of our Chart-a-thon release schedule, we still have one more announcement planned for tommorow's New Year's Eve celebration. You're not gonna want to miss this massive content pack, featuring releases from some of our best and most active contributors, so be sure to check back in before the ball drops for our final release of Chart-a-thon 2021.