Releases
Chart-a-thon Day 35, Slot 2: Radiohead!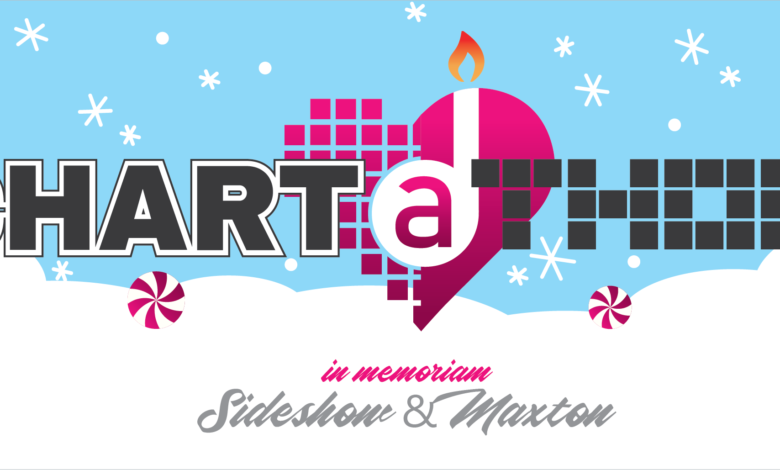 Hey! Yaniv here for the last time in this glorious Chart-a-thon. (well, last time I'll do a release post, anyway). And today, me and Sr. Moog are here for another massive pack – this time, 16 songs from Radiohead!
I assume Radiohead doesn't need much introduction. They've also been the focus of a huge full album by Septekka, but apparently this project was abandoned after Kid A, so we took over (At least if/until Septekka will be back). So without further ado, 16 songs spanning 24 years, from Radiohead's first album to last – here we go!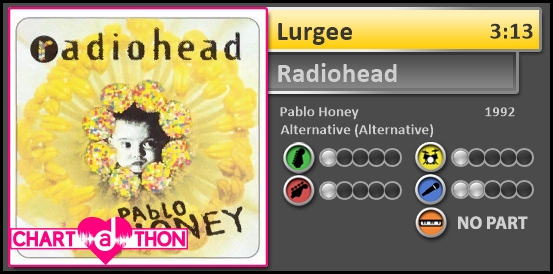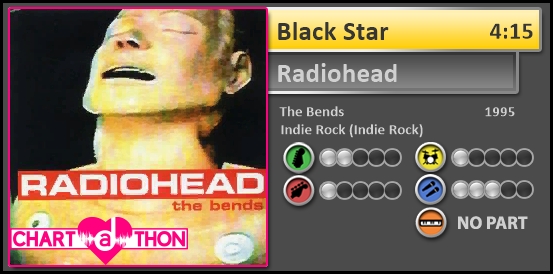 Starting from the very early days. "Pablo Honey" is mostly known as "Creep and 11 others", and I'll admit the album isn't particularly great in any way, but it does have some great moments. "Lurgee" is a relatively tender song, near the end of the album, about overcoming a breakup – "I feel better now you're gone". It's a sweet song with a nice instrumental outro, and also some shown signs of the sensitivity and hurt in later Radiohead songs. "Black Star" is off the classic "The Bends" album, and it's another beautiful song with nice melodies and a rousing chorus.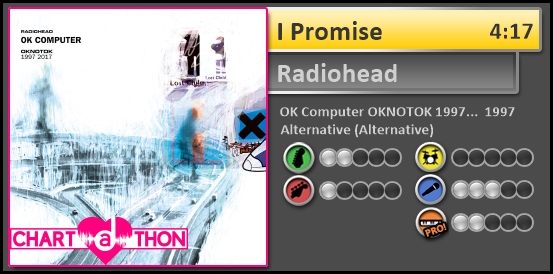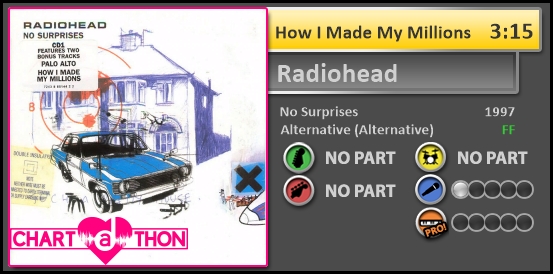 So "OK Computer" was done in full, but there's still some great stuff from that era. "I Promise" is a lost song, recently released in the "OKNOTOK" deluxe edition of OK Computer. It's fairly basic, but there's a nice buildup, some nice bass and strings, and it's a pretty song. "How I Made My Millions" is the b-side to "No Surprises". It's fairly unique in Radiohead's catalog – it's basically just a home recording of Thom at the piano. It was supposed to be a demo for the band to work on – you can even hear Thom's partner cleaning up their home in the background – but it was decided to release as it is. It's a mysterious, harrowing and beautiful piece of music, and one that's been adored by fans for ages.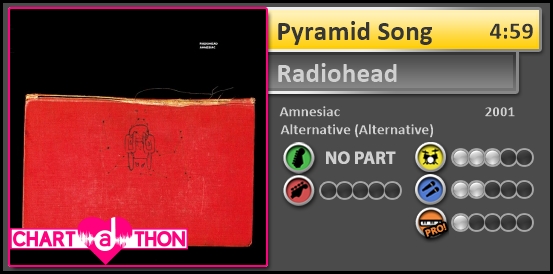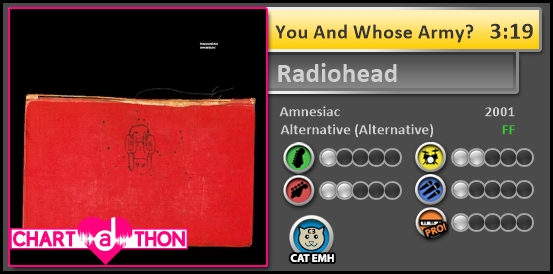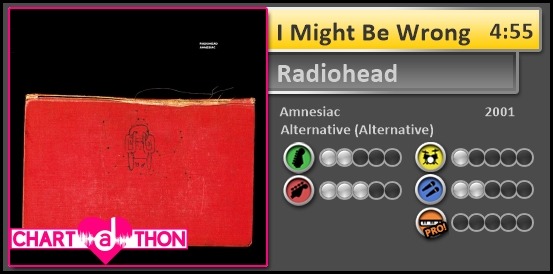 So "Kid A" was already released in full, but those are the first full band customs of any Amnesiac tracks. We bring you 3 classics from this great twin album. "Pyramid Song" is one of the band's best and widely-loved songs. The lead single from the album, it's simply a special piece of music – based on unique, jazz-influenced rhythm, it paints a dreamy picture of heaven. The drums are particularly special IMO, not terribly difficult but a completely unique beat, and they're just beautiful to play along to. It's been one of my favorite songs for ages and I'm happy to bring it here.
"You and Whose Army" is another Amnesiac classic – a beautiful ballad, and a conscious attempt to create the "muffled" sound of 40's harmony groups, which eventually explodes into a big climax. "I Might be Wrong" is more guitar-based, built on a catchy repeated guitar riff, it's a good combination of Radiohead's early and later styles, with eerie synths and reverbs driving the song along a guitar riff and steady beat.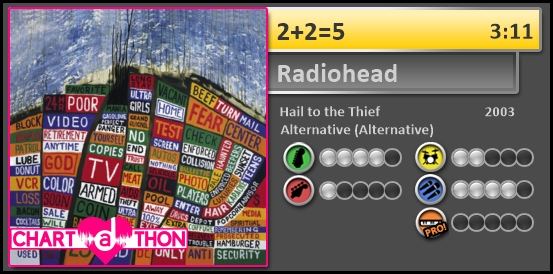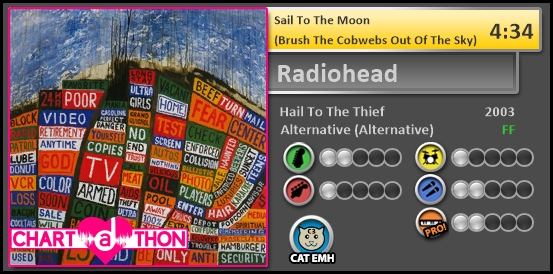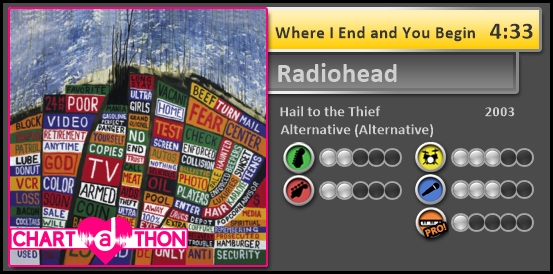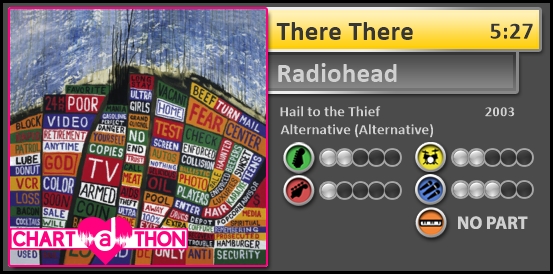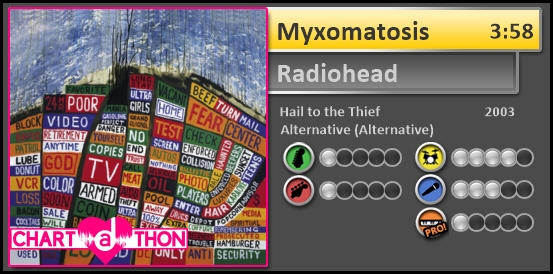 "Hail to the Thief" was another really mis-represented album – but no more! The album makes the bulk of this release and includes a fair share of classics. Headliners are probably "2+2=5", the rocking opener that has become an undisputable all time classic, with rousing guitars absolutely exploding for the second part of the song – ever since Thom yells "because!". And "There There", the first single of the album, and another one that became a long-standing Radiohead live staple and one of their best songs. A percussion based song – performed live with up to 4 different band members playing drums – it's got a steady beat until it also explodes midway, before an epic Jonny Greenwood guitar solo and final verse.
We also offer a collection of deeper cuts from this great record. "Sail to the Moon" is a classic Radiohead piano ballad, an encouraging song written by Thom for his son, with some beautiful guitar. "Where I End and You Begin" is another Radiohead classic by now, with a driving tricky drum beat, great bass and energy, and classic Thom lyrics and melody. "I Will" is a quiet, guitar based song with some great harmonies, and it's beautiful and simplistic, while "Myxomatosis" is the exact opposite – a loud, messy, brilliant song, with extremely tricky drums that seem almost random at times, epic distorted guitars and a brilliant tune overall.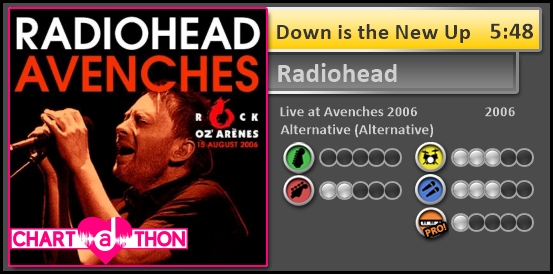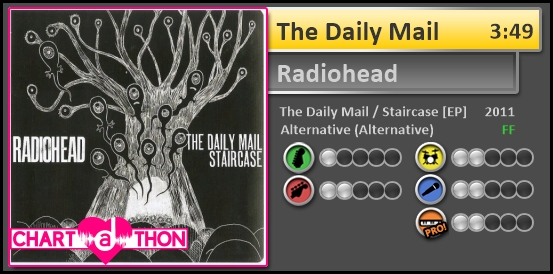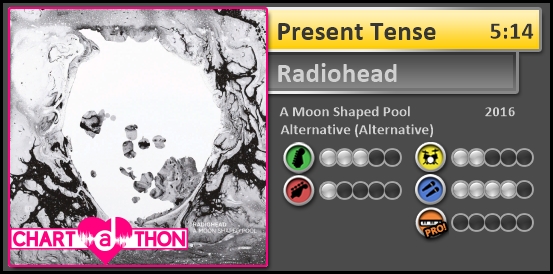 Finishing up with three last songs from their "late" period, from In Rainbows onwards. "Down is the New Up" was the working title for "In Rainbows", but ended up not even on the record. I don't want to be one of those annoying "they ruined it in the studio" fans, but this is one case where I do believe the live version is much superior to the studio version, and also much more fun to play – so here's a live version of "Down is the New Up", complete with Thom beat-boxing and 2 drum sets.

To finish it off, "The Daily Mail" is another growing piano ballad, this time with a strong political message. It wasn't on any album, and was recorded live in Radiohead's "From the Basement" series, and released as an EP. "The Present Tense" is an absolutely gorgeous song from "A Moon Shaped Pool", Radiohead's latest album – it's based on a light bossa-nova beat and arpeggiated guitars, and it's just one of those beautiful other worldly Radiohead songs.
We hope you enjoyed the release! It was a pleasure working on this event. Hopefully you all downloaded some great brand new customs, and didn't forget to donate! See you soon.