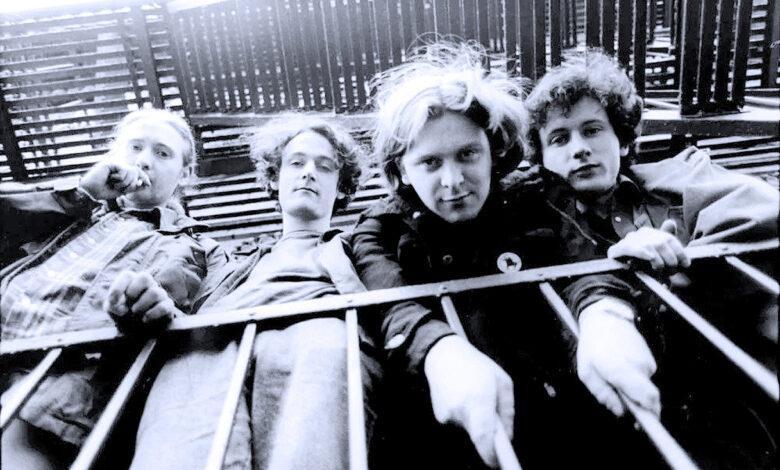 "Teenage Fanclub are the best band in the world"
-Kurt Cobain
"Great band. Second best band in the world!"
-Liam Gallagher. (second best after Oasis, of course).
Today, I'm happy to bring into our beloved game one of the best, and most underrated bands of the 90's – Teenage Fanclub.
The brilliant Scottish have earned the endorsements of those greats and many others, and for a very good reason. They are known for their distinctive style – a combination of gorgeous melodies, beautiful Beach-Boys-esque harmonies, with their love of distortion and walls of distorted guitars who often accompany their songs. They're considered among the greatest power pop bands in history, and often noted because of their influence (and certain similarity) to power pop legends Big Star. They remain one of the most beloved and influential alternative rock bands from the 90's.
Teenage Fanclub are led by three distinctive songwriters, each one singing lead on his own composition – quite a similar structure to the Beatles. The two "main" songwriters – the Lennon/McCartney, if you wish – are Norman Blake (guitar/vocals) and Gerard Love (bass/vocals), who's known for his particularly sweet love compositions (not too different from McCartney). The Harrison role – the lead guitarist who's songwriting contributions are fewer, but very welcome – is filled by Raymond McGinley. The band have somewhat struggled to find their Ringo though – with three different drummers playing with the band at different points in their career.
So without further rambling, let's go:
Released in 1991, the band's second album "Bandwagonesque" is often considered their best, and among the best of the 90's. It's the album that introduced Teenage Fanclub to the world, and was voted 'album of the year' for 1991 by American music magazine Spin, famously beating Nirvana's landmark album Nevermind.
Previously released:
Writer: Blake
I'm sorry for using this platform for an old custom, but "The Concept" absolutely belongs here. The opener of "Bandwagonesque" remains among the most essential TFC songs. From his classic opening lines:
"She wears denim wherever she goes 
Says she's gonna get some records by the Status Quo"
To this epic, 6-minute of power pop brilliance, with a lengthy outro guitar solo, it's the one song that's always played live, and one of their most defining tunes. So here, enjoy this custom again, and now it won't be alone on your game anymore!
Writer: Love
If we were doing the Beatles analogy, then "December" by Gerard Love would be a classic McCartney composition. A beautiful melodic song, just over 3 minutes, with the unforgettable one-liner bridge: "She don't even care, but I would die for her love". With a crunchy guitar line, melodic bass and some tasteful strings at the end, this song is just amazingly beautiful and one of the album's highlights.
Writer: Blake
"What You Do To Me" emphasizes the "pop" part in "power pop". A song that's basically built on two sentences, it's admittedly not the deepest song in this pack, but it's a blast anyway – clocking at 2:00 and not a second more, it's a tightly-packed song full of guitar riffs, great groove and sweet melodies. 
Writer: Blake
Possibly the centerpiece of the album, "Alcoholiday" finds the band in a much rougher, difficult place. If "December" was McCartney, than "Alcoholiday" is pure Lennon – rough, sloppy, desperate, and some strategic use of profanity – the classic "baby I've been fucked already" line in the chorus. It's still immensely melodic, almost naive in the way it describes a breakup – "There are things I want to do, but I don't know if they will be with you", with some gorgeous melodies as always. It ends in a somber conclusion – "what I've done, I leave behind me/I don't want my soul to find me" – before jumping into a lengthy guitar solo to top it off. An absolute classic.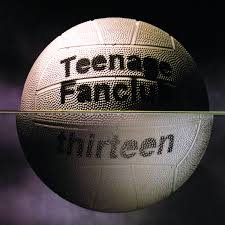 After the success of "Bandwagonesque", the group has taken the experimental route. "Thirteen" is self-produced, took ages to complete (to the point of most of the band hating it), some songs don't even have proper titles ("Norman 3" is simply the third song Norman Blake brought to the record), and was initially slayed by reviewers. But years later, it's claimed it's rightful place as a great record – perhaps not as "all time classic" as their previous one, but still the work of very talented people writing some great songs. So here goes:
Writer: Love
For 30 minutes or so, you might think you accidently chose the wrong record – "Hang On" opens the record with some heavy riffs that wouldn't be out of place in a Megadeth record. However, the song smoothly transitions into more of a classic TFC composition, with Gerard Love delivering yet another lovely melody, before it ends with a lengthy outro that includes flutes and violins. It's certainly new territory for the band, and it's up there with their most classic compositions. And it's pretty great for Rock Band too!
Writer: McGinley
The first McGinely song of the pack is a small, simple, weird but lovely tune. Probably the deepest cut of this pack, it's one of those hidden gems beloved by fans. It's quite minimalistic – no bass, no harmonies (only song in the pack!), and a late drum entrance, but that's a part of the charm. It climaxes in yet another lovely chorus, with it's brilliantly naive description of being in love: "When I see you cry, I think tears are cool". Sweet love or excessive admiration? Up to you, but regardless, this is a very nice song for your library.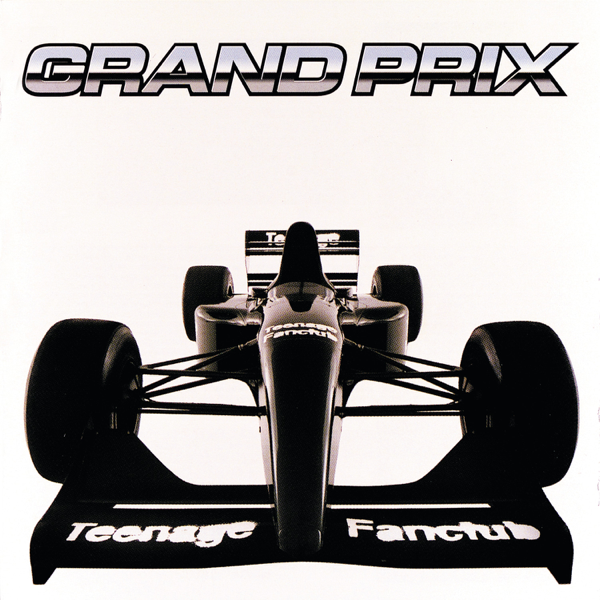 After the experiments of Thirteen, "Grand Prix" shows the band getting back to familiar grounds, and perfecting their formula like never before: pretty much any song on "Grand Prix" is quintessential TFC – melody, harmony, quality songwriting. Cynics might say it's too polished – it's certainly less "lo-fi" compared to their earlier works – but it's just a phenomenal piece of work. Today I'm bringing 4 classics from that album:
Writer: McGinley
"Grand Prix" was also a big step forward for McGinley, who contributed 4 songs (equal to other members), and gets to deliver the opener. "About You" is another one of those power pop classics – not many lyrics, but very heavy on hooks and beautiful harmonies. It's a classic opener and fantastic for Rock Band.
Writer: Love
That's a big one – currently the band's most popular tune on Spotify, "Sparky's Dream" is essential. If "The Concept" is essential Blake, this is essential Love. Frequently mentioned as one of the band's greatest tunes, I'll let Paste magazine do the talking for me: "a classic love song, lyrically, and a melodic monster that's home to one of the best TFC choruses, period. It grooves more than most of its siblings in the band's songbook, thanks to a danceable rhythm and a serrated guitar sound. And then, the main hook comes along and blasts the song off into a space shimmering with shooting stars and crystal balls".
Writer: Love
Another absolute home-run from Love in the same album, "Don't Look Back" is in my opinion even better than "Sparky". Featuring great guitars (and a great intro solo!), this is a melodic monster of sweet and beautiful rock, with great buildup, and one classic line: "I'd steal car to drive you home", a twisted-yet-romantic musing from Love. It's just a fantastic song and one of my favorites. Also, those harmonies are so sweet!
Writer: Blake
So after two masterpieces by Love, Norman Blake couldn't just sit aside and do nothing. And he definitely delivered – quite possibly my favorite Teenage Fanclub tune. "Neil Jung" is a melodic monster, powerful, ultra fun to sing along to, and emotional. The little hiccup of a pause in the chorus is one of the most distinctive moments of any TFC song, and it's an amazing moment. The title is a not-so-subtle reference to Neil Young, and the song ends in a guitar jam that's quite reminiscent of Neil. Once again, phenomenal melody, harmonies and guitars come together to form an absolutely perfect musical tune.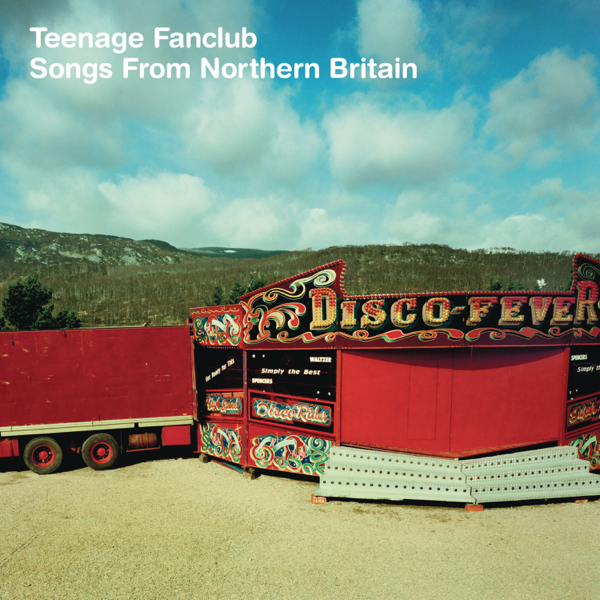 The last out of Teenage Fanclub's legendary run of great albums. Critics of "Northern Britain" claim it fails to explore new territory, and being 'more of the same', and it was in fact sort of made as "Grand Prix II", but when "the same" is so good why would we not want more? And the band delivers yet another set of beautiful songs, with one sticking out in particular as an all-time classic:
Writer: Love
The lead single of "Northern Britain", "Ain't That Enough" is another undisputed highlight of the band's career – and a very strong contender for my favorite TFC song (yeah I know I've been saying it on almost every song, but they're all just so good!). Paste Magazine has named it the best TFC song, so I'll let them do the talking:
"Ain't That Enough" is a masterwork of '90s electric guitar tone, a clinic on melody making and harmony singing, and a lesson about optimizing our limited time here on Earth, all wrapped up into one. Listen to this song on headphones and let the voices pour into your ears. Listen to the strummed strings churn straight up into heaven. Nod in appreciation as Love asks, "Here is a sunrise. Ain't that enough?" Indeed, "Ain't That Enough" is an ecstatic exhale of a song bathed in sunlight, and it's the very best song in one of the very best catalogs of recorded music ever created.
Amen!
And since I just love setlists, let's finish with the recommended order for a classic TFC gig: from the all-out opening of "Hang On", to the closing one-two punch of "Sparky's Dream" and "The Concept", to the sunshine-and-rainbows encore of "Ain't that Enough". Here goes:
Hang On
About You
What You Do To Me?
December
Tears Are Cool
Neil Jung
Alcoholiday
Don't Look Back
Sparky's Dream
The Concept
Encore:
Ain't That Enough
So that was that for now. It's been an honor to create this tribute to an all time great band. I hope you'll enjoy the customs, whether you know/love the band already or whether you'll decide to give them a shot – they're truly great.
Have fun, and see you next time!