Releases
Chart-a-thon Day 33, Slot 2: Led Zeppelin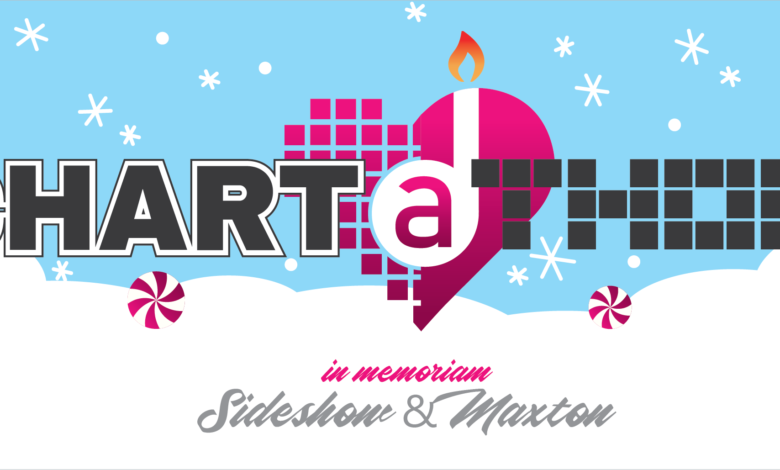 I really don't see the need to do a write up on who this band is – if you don't know, you probably wouldn't be here. I would though like to talk about some of our decisions. As some would know, John Bonham is considered one of if not the greatest drummer to ever live. Some of this was due to his creativeness behind the kit. Things like putting wads of tin foil in his bass drum to achieve certain sounds, or mic placements, wrapping his kick pedal in leather to get a ghost type hit. As I am sure you can imagine, this can get frustrating to chart, and play. We did our best to try and incorporate ghost notes as needed, to keep the song as accurate as possible but also to make it fun to play. Kris did an amazing job on venues for all of these as well as Pro instruments for some. We had a big team effort for these, and there are more to follow!
All My Love is the sixth song on Led Zeppelin's 1979 album In Through the Out Door. Credited to Robert Plant and John Paul Jones, it is a rock ballad that features a synthesizer solo by Jones. It was written in honour of Plant's son Karac, who died while Led Zeppelin were on their 1977 North American tour.
All My Love is one of only two Led Zeppelin songs that Jimmy Page had no part in writing (the other being "South Bound Saurez", also from In Through the Out Door). Kris did an amazing job on the keys for this one as well as the venue.
This song is based on various American blues recordings, including Blind Boy Fuller's 1939 "I Want Some Of Your Pie" and Brown McGhee's 1947 "Custard Pie Blues." It's the first song on the double album Physical Graffiti.
It is one of the few songs that Zeppelin never performed live.
This song was meant to imitate reggae and its "dub" derivative emerging from Jamaica in the early 1970s. Its genesis is traced to Led Zeppelin's rehearsals at Stargroves in 1972, when drummer John Bonham started with a beat similar to 1950s doo-wop, and then twisted it into a slight off beat tempo, upon which a reggae influence emerged. The distinctive drum sound was created by placing three microphones a good distance away from Bonham's drums.
In a 2005 interview, Plant discussed the different interpretations and pronunciations of the name of the song. He explained that the title is derived from an old joke, where two friends have the following exchange: "My wife's gone to the West Indies." "Jamaica?" (which in an English accent sounds like "Did you make her?") "No, she wanted to go".
Houses of the Holy is a song from their 1975 sixth album Physical Graffiti. The name of the song was used as the title of the band's fifth album, although it was not included on that album; they decided the song did not fit well with the other album material, so it was moved to the subsequent release. In order to create the layered guitar introduction and fade-out, Page used a Delta T digital delay unit. The squeak of John Bonham's drum pedal can be heard throughout the song.
This is another song that the band never performed live.
The Rover is a song written by guitarist Jimmy Page and singer Robert Plant. Although mostly recorded years earlier, it was released on the group's 1975 double album, Physical Graffiti. Yet another song that the band never performed live in its entirety, but they did play the open verse here and there and branch off into something else.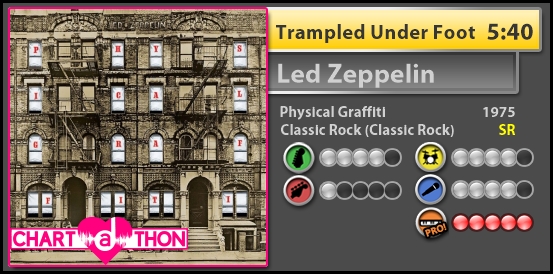 One of my personal favorites, Trampled Under Foot was a funk-influenced piece with John Paul Jones on clavinet, it was included on their 1975 album Physical Graffiti. The song was released as a single in several countries and was frequently performed in concert. The song evolved out of a jam session in 1972 and is credited to Robert Plant, Jimmy Page and John Paul Jones. Much rehearsal went into perfecting the relentless semi-funk riff that dominates this song. John Paul Jones has credited Stevie Wonder with the inspiration for the beat ("Superstition", 1972), which he played on a clavinet. Page played through a wah-wah pedal and, as producer, employed reverse echo on the recording.
When the Levee Breaks is a country blues song written and first recorded by Kansas Joe McCoy and Memphis Minnie in 1929. The lyrics reflect experiences during the upheaval caused by the Great Mississippi Flood of 1927. When the Levee Breaks was re-worked by Led Zeppelin as the last song on their untitled fourth album. Singer Robert Plant used many of the original lyrics and the songwriting is credited to Memphis Minnie and the individual members of Led Zeppelin. Jimmy Page commented that while Plant's lyrics identified with the original, he developed new guitar riffs and different chord progression that set it apart. However, it is John Bonham's drumming that is usually noted as the defining characteristic of the song.
This was actually brought to us by Sr. Moog, who did most of the initial work on this, he went on vacation so we finished it up for him. It is a complete re-chart versus any version already in the database with all instruments.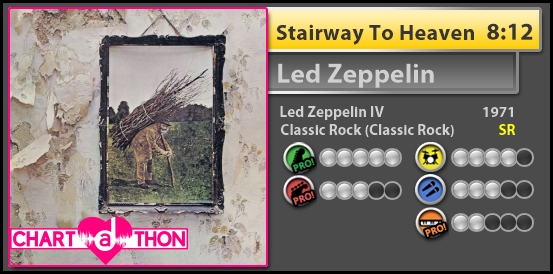 So the first thing you are saying right now is "Wasn't this already in the database?" Yes, indeed it is by TrojanNemo. He did a great job on it too, we just felt like we wanted to give it our take, as well as add pro guitar and bass (courtesy of CapnKris) as well as one of the best venue jobs I have seen. Please note – our version will be listed on the download page as one of the Other Downloads version so we cannot give a write up on it.
Stairway to Heaven was released in late 1971. It was composed by the band's guitarist Jimmy Page and vocalist Robert Plant for their untitled fourth studio album (usually called Led Zeppelin IV). The song is often regarded as one of the greatest and most iconic rock songs of all time. The song has three sections, each one progressively increasing in tempo and volume. The song begins in a slow tempo with acoustic instruments (guitar and recorders) before introducing electric instruments. The final section is an uptempo hard rock arrangement highlighted by Page's guitar solo (considered by many to be one of the greatest ever) accompanying Plant's vocals that end with the plaintive a cappella line: "And she's buying a stairway to heaven." Stairway to Heaven was voted number three in 2000 by VH1 on its list of the 100 Greatest Rock Songs, and was placed at number 31 on Rolling Stone's 500 Greatest Songs of All Time. It was the most requested song on FM radio stations in the United States in the 1970s, despite never having been commercially released as a single there.
I want to give a special shout out and thanks to all of the members of SomeOldGuys for really going the extra mile on this one. We despise deadlines but for a cause as worthy as this, we had to. Please remember to donate whatever you can to the ACS (link below). We ask at least $1 per song you download, but all is welcomed and appreciated. We have another Zep pack that we didn't quite finish for this release so stay tuned for more!