We have arrived at Christmas Eve 2020 and we have a special celebration for all of you! Today instead of a three-slot release cycle we'll be having one megaslot with multiple authors contributing a plethora of songs, some Christmas-themed, others not so much. Without further delay, let's begin the festivities!
Onyxite
Dream Theater – The Holiday Spirit Carries On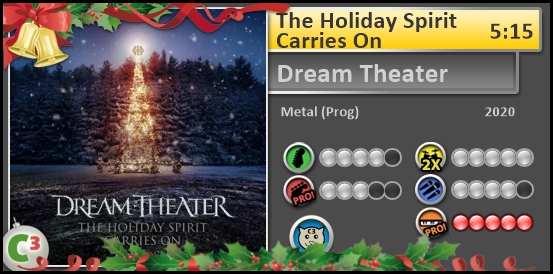 2x version
CH version
By Onyxite and Miscellany
A holiday medley put together by Dream Theater to fundraise for their road crew who have been out of work this year. If you're a DT fan, please go buy the track at https://dreamtheaterofficial.bandcamp.com to help out!
PikedPike
Fountains of Wayne – I Want an Alien for Christmas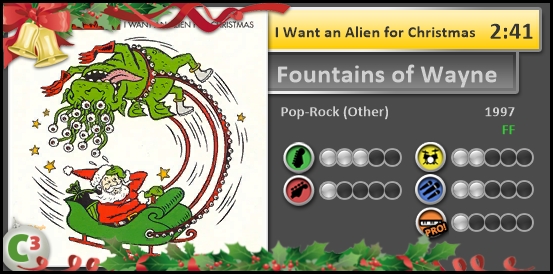 GhostByob
kueller
Gerard Way – Dasher (feat. Lydia Night)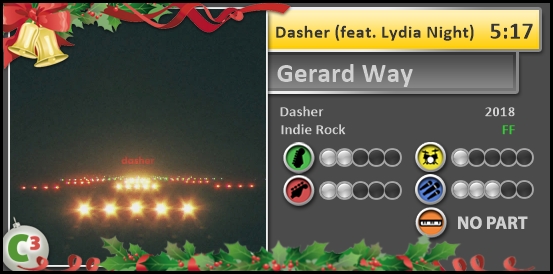 "This song… is about a reindeer. It's about a girl who falls in love with a reindeer. It's a girl who works at Starbucks and falls in love with a reindeer. And she dreams that this reindeer will take her away from her miserable job. And she wants to get away and she wants to escape and the only thing that can help her is this motherfucking reindeer. And this song is called Dasher." – Gerard Way
Bansheeflyer
Talk Talk – Life's What You Make It

Released in 1986 and quickly rose to become one of Talk Talk's biggest hits. As the title suggests this song is about making the best out of life and not dwelling too much on the past. If you're like me you'll have also first heard this song in Vice City but I've been listening to it so much outside of the game that it would probably sound weird hearing it on Flash FM.
Being a new wave song, the drums were easily the most difficult to chart. The pattern is the same throughout the song so once you get it down it's pretty easy but figuring out how it was played required multiple live and music videos to study how the drummer drummed. Enjoy!
fbs13
John Smith
Shihoko Hirata – Keys Plus Words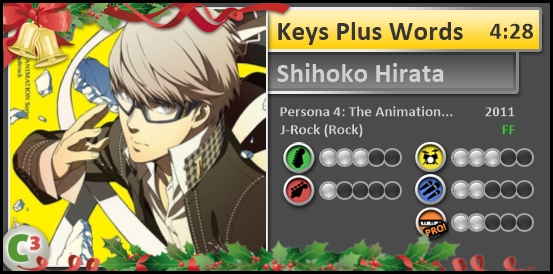 The second opening theme for Persona 4: The Animation
RongoIK
Green Day – Xmas Time of the Year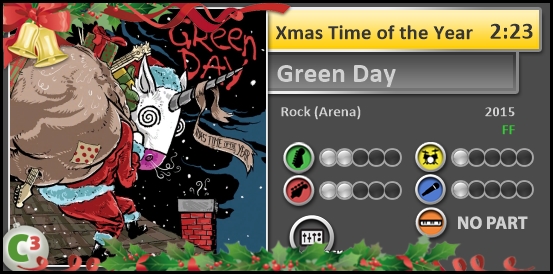 Xmas Time of the Year was originally released on the Christmas of 2015 exclusively on YouTube. In December of 2019, it was re-released and mixed for lossless listening… it also finally gained an album art that year! I made this custom in 2017, but it was not the greatest. I made an update in 2019, but alas it was still imperfect. Now I present to you the final update to this song (hopefully)! Alongside all of my customs, this custom includes quality DIY stems that were manually made by myself (not thrown completely into automation). All instrument charts and animations are fixed alongside better reductions! Basically…. what I'm trying to say is to please update the song to this newer version, to say the least, its MUCH better. I will be back soon with more releases relating to Green Day! (Also if you didn't know I help with The Beatles: Rock Band customs… it's already been a year since our first release!)
CapnKris
The Nails – 88 Lines About 44 Women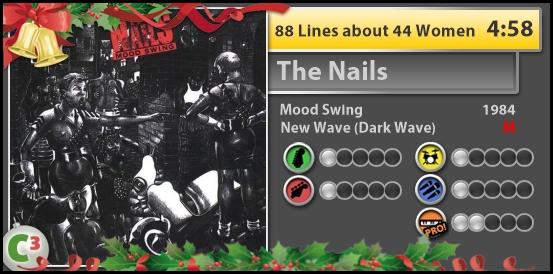 Echo & The Bunnymen – Lips Like Sugar

SomeOldGuys
Eagles – Please Come Home for Christmas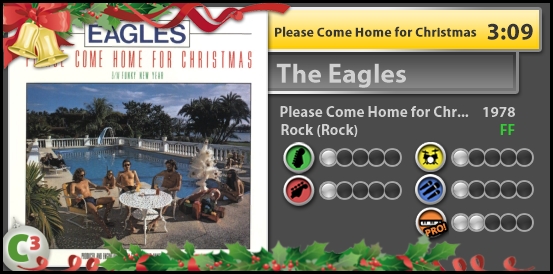 Recording sessions for the follow up album to 'Hotel California' were beginning to drag on, and the team surrounding them began to grow concerned. Everyone needed a break. 'The Long Run' was eight months behind schedule, and it was suggested that a Christmas single might be a way to get the record label off of their backs, and give the band a morale boost that was desperately needed.
The band was holed up at a motel in Coconut Grove, Florida. "It was hot as hell," according to Glenn Frey. "Perfect for a Christmas record." Band mate Don Henley suggested an old Charles Brown song he played in his youth, and unlike the rest of what would become the final classic-era Eagles album, the single was completed quickly in just two sessions. The song, devoted to holiday melancholy, was a hit and seemed to have finally ended their creative stalemate, the Eagles finishing their album in the weeks that followed.
Stick around on New Years Eve for their follow up hit. Happy Holidays and Merry Christmas from Some Old Guys!
VreyisGrey
Here is a pack of two songs about Rock 'n' Roll! However these song are less actually rock 'n' roll and more about rock 'n' roll, but here's a little backstory. When this whole 12 Days of Chartmas thing started, I was eager to contribute songs to this event, and while I was working on getting charts ready, I noticed that two songs I had in my WIP both had "Rock 'n' Roll" in the title. I had a "Eureka!" moment and I realized what I had to do: finish both of these songs and release them together in a pack! And here we are. Both of these songs in a two-pack (not Tupac, he's not in this pack :P)
The Arrows – I Love Rock 'n' Roll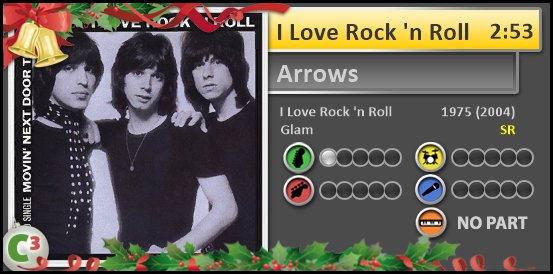 Did you know that Joan Jett and the Blackhearts' "I Love Rock N' Roll" that was featured on the Rock Band 3 setlist is actually a cover? I didn't either until recently! About a few weeks ago, I sought out the original cover, and it was actually sung by a guy and the roles are reversed in the song! As for similarities in the charts, I used the Rock Band 3 chart as a basis for overdrive and then added a few tweaks to make it not exactly the same, the difficulty tiering mirrors the original, and the venue is almost a one-to-one recreation of the original. I asked StackOverflow0x to de-compile the MILO of the original song (where Rock Band 3 venues are stored), and thanks to him, I was able to get the whole thing in text form, which I then recreated in my own venue, albeit with a few differences in camera work and lighting. As for the charts themselves, no worries, I didn't copy anything; I charted it entirely from scratch, along with the lower difficulties! Vocals is a bit different because the song is actually, from what I can hear, transposed up a half step, and the chart reflects that. And finally, the metadata. I scoured RateYourMusic looking for the first release of this song, and I found a single catalogued on there with I Love Rock 'n Roll on the B side, which from what I can tell, was first released in 1975. However, the version I got and put into the game was from a re-release single in 2004, and I can't tell if the two versions are identical or not, because I can't find audio of the original, so to be safe, the metadata reflects this re-release. Also, it may be a bit inconvenient that the title doesn't match the Joan Jett version in Rock Band 3, but I went with the formatting in the title and cover. That's about it!
Wesley Willis = Rock 'n' Roll McDonald's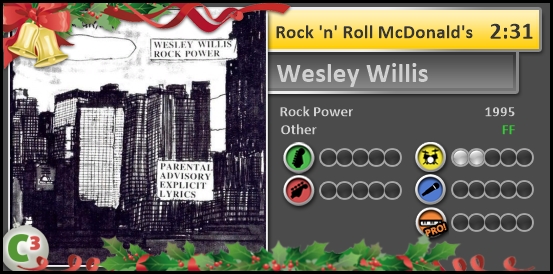 Wesley Willis is a very "unusual" artist. He is perhaps the most shining example of the "outsider music" genre. Willis' style usually consists of him speaking often bizarre lyrics like an MC in an out-of-tune, nasally voice, with backing instrumentals provided by a Technics KN keyboard, (although he has been in a punk group called "The Wesley Willis Fiasco" that wrote their own backing tracks, but they only released one album). The typical Wesley Willis song structure usually has verses that are almost spoken-like phrases and sentences, with choruses that consist of him belting out the name of the song; and at the end of most songs, he says "Rock over London! Rock on Chicago!" followed by him dropping a brand slogan. And this song is no different. "Rock 'n' Roll McDonalds" is probably Willis' most famous (or infamous) song where he talks about the McDonald's restaurant in his hometown of Chicago that is actually called "Rock 'n' Roll McDonalds". However, this is less about that restaurant as it is just him talking about McDonald's and how it "will make you fat" and "[their] hamburgers are the worst; they are worse than Burger King".
JIManji
So I was meant to release this all last year for Xmas but things got in the way and I wasn't able to get these out on time. LUCKILY I had the time to get this finished so I hope you all enjoy these songs.
Pentatonix – Dance of the Sugar Plum Fairy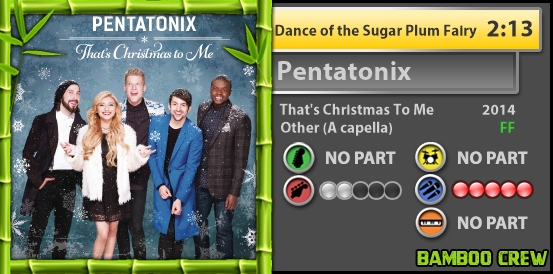 Harm 1 – Kristin
Harm 2 – Mitch
Harm 3 – Scott
Pentatonix – That's Christmas to Me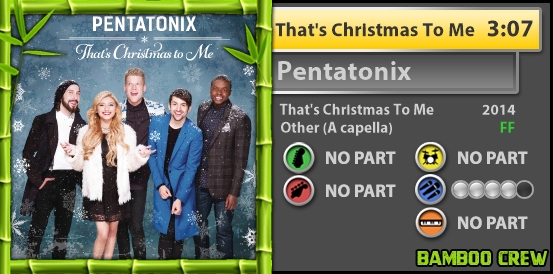 Harm 1 – Scott
Harm 2 – Kristin, Mitch
Harm 3 – Avi
Pentatonix – White Winter Hymnal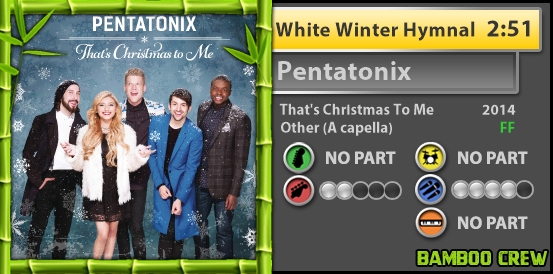 Harm 1 – Kristin
Harm 2 – Mitch
Harm 3 – Scott
That sums up the Christmas Eve event for 12 Days of Chartmas! Thank you for your support of these wonderful authors and enjoy your holidays!