We did it! We reached the end of 2020, a year full of… many interesting events, to say the least. As the year draws to a close we've got a special celebration with a plethora of customs for your enjoyment (and something to start out 2021 on the good foot)!
Yaniv297
The Millennium – There is Nothing More to Say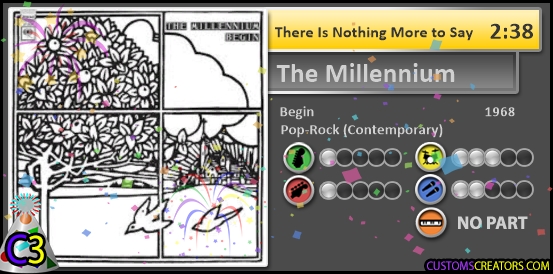 Welcome to one of the greatest lost classics of the 60's! "Begin" by the Millennium really should have been much bigger. At the time of it's release, it was the most expensive studio album ever recorded. It practically invented a new genre, sunshine pop, with clear influences of psychedelia, rich harmonies and lush orchestrations. Initial sales weren't great, but overtime the album gained a big following – AllMusic describes it as a "bona fide lost classic" and "easily on par with songs by the Beach Boys and the Byrds — and, yes, even the Beatles", Pitchfork says it's "probably the single greatest 60s pop record produced in L.A. outside of The Beach Boys", and so on.
"There is Nothing More to Say" appears near the end of the record, and serves as one of it's climaxes. A brilliant song with a powerful, epic chorus, brilliant playing including some cool jazzy drumming, and overall it's just a fantastic song. If you have any interest in 60's pop or psychedelia – this one is absolutely a must have.
RongoIK
The year of Money Money 2020 came several prophecies foretold. Those who didn't evolve have found themselves disconnected from The Network… we're wrong and they told us so!
Is it just me or does this song sound stolen from Green Day's latest studio album "Father of All…"? Remember that it's just a demonstration!
The Network – Threat Level Midnight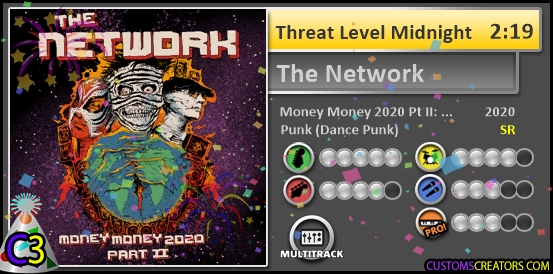 Interesting… it seems that Threat Level Midnight is almost ANOTHER warning for the future… Eh, I wouldn't worry about it.
(Secret message incoming:
More of The Network is planned to release in Money Money 2021… songs that do not have any correlation to Green Day. Trust me, I'm from the future.
Non-goIK, signing off)
TheSheepQueen
Sophie Ellis-Bextor – Murder on the Dancefloor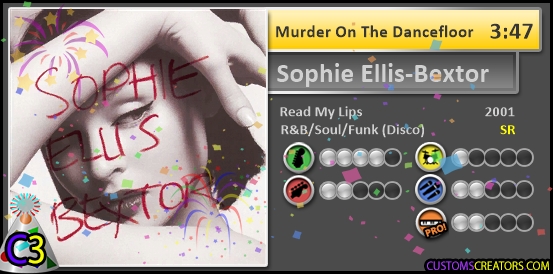 Green Day said Kill The DJ, but Sophie Ellis-Bextor is on another level. The british singer is clear in her message: That DJ is a murder machine. You can now play her most famous hit Murder On The Dancefloor, which features funky guitar (with a solo), a slapping bass, retro strings and very satisfying harmonies. This is the ideal song to make your guests understand very subtly that if they hold on to their dear life, they better not say they will resign on playing Rock Band with you. ESPECIALLY with this one.
MrPrezident
Simple and effective, The Chats deliver pop-punk mashed with scuzzy Sub-pop 90's tones courtesy of the belching bass guitar of singer Eamon Sandwith, the trash drumming of Matthew Boggis and low-fi gurgle of guitar fuzz of Josh Price and Tremayne McCarthy. "Temperature" is both an ode to being stuck at home with an illness and a metaphor for sexy times, so grow your mullet, put on a surf rescue top, grab a pack of darts and get ready to rock the fuck out! Just don't leave the house.
fbs13
Bansheeflyer
The first international single from INXS, "Don't Change" peaked at number 18 on the Australian Singles Charts and reached number 80 on the Billboard Hot 100 and number 17 on the Billboard Top Tracks chart. For a song released in the heart of the new wave era it has a rather surprisingly distinct 90s alternative sound. Consisting of a fast tempo and driving guitar this song made for a great closer at INXS shows, being the final song at nearly every concert during their 35-year career and now you can close out your own shows with this hit from Shabooh Shoobah!
INXS – Kiss the Dirt (Falling Down the Mountain)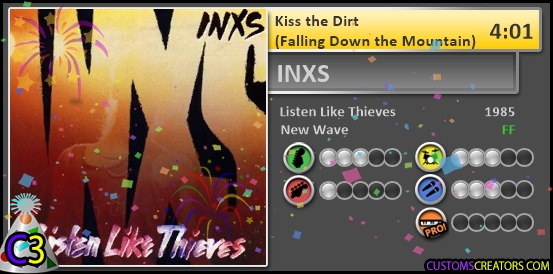 The third single off the Listen Like Thieves record, "Kiss the Dirt" became the band's tenth Top 20 hit in their country, reaching #15 on the Australian singles chart. If you're like me you've probably heard this first in Grand Theft Auto: Vice City (hm I feel like I said this recently). Like "Don't Change", this track has a great driving rock beat and the third chorus in the middle is incredibly fun to play and listen to. One thing I noticed once and haven't been able to unhear since is an apparent "baa"-like sound after the lyric "To prove that we are one". I have no idea if that's an instrument or if they brought a sheep into the recording studio that day but it's there.
JIManji
Dance Gavin Dance – Young Robot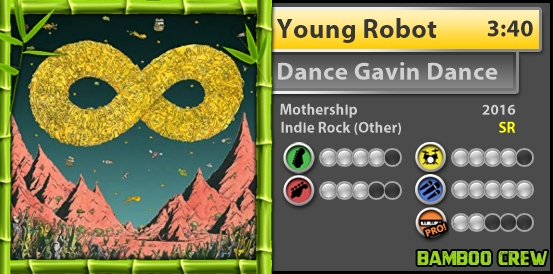 Dance Gavin Dance – Midnight Crusade


2x version
Dance Gavin Dance – We Own the Night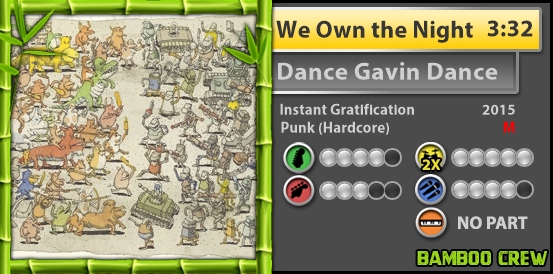 2x version
SomeOldGuys
Funky New Year was a departure from everything the band had done so far. It's reminiscent of stuff you'd hear from Parliament Funkadelic or at the very least, the Edgar Winter Group, which makes a rare audio recording like this so incredibly special – we can't even begin to imagine the party going on when the Eagles took the stage on New Year's Eve that year.
For a song about the ensuing hangover that comes after partying hard on New Year's Eve, the Eagles' Don Henley sure sounds like he had a great time – and you will too after checking out this exclusive live audio of the band ringing in a brand new year as only they can!
And so wraps up another year of custom songs. Thank you all for your continued support for the community, this wouldn't be possible without you! Here's to many, many more years of customs!