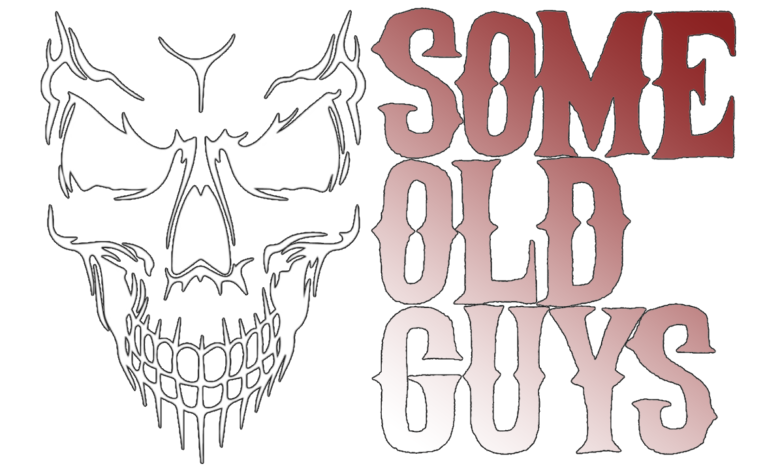 So we decided to take a break from artist packs and full album releases, and we each just picked a random song that we wanted to add to our library, then pitched in together to get them all done. I think you will find this pack very diverse, from Disco to Blues to Hair to …, and it was a blast to make. I can still see my wife running upstairs thinking something was wrong with me because she heard Born To Be Alive playing.
I would say to look for more of these types of packs from us in the future as well as our artists and full album packs. On to the tracks!
MrPrezident: "Uh Oh, Love Comes to Town"
"This song is how the world was introduced to Talking Heads, as its the opening song from the debut album. I chose this one because its a very cool song from my favourite album, and also because the majority of what we've released before was hard rock & metal, this was the first opportunity to stretch out into authoring music in new genres." –MrPrezident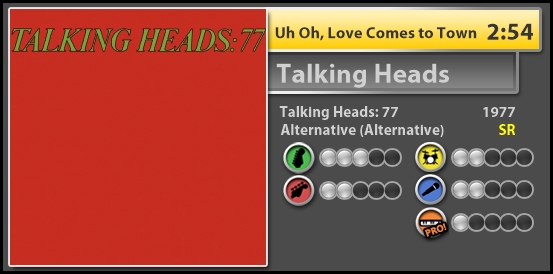 IaSG14: "Young Gods"
"Little Angels were a UK Rock band who recorded mostly in the 80s and 90s. "Young Gods" (album) featured guest performances from The Big Bad Horns, a brass band which contained popular video game composer Grant Kirkhope on trumpets.
I chose this song because most of the tracks that I do for Clone Hero only contain guitar & bass charts without drums or pitched vocals. Instead of picking one that's only fun on one or two instruments, I went with a great song that sounded like it would be fun on everything, not to mention a blast to play with a full band. Hopefully my ears didn't let me down!" – IaSG14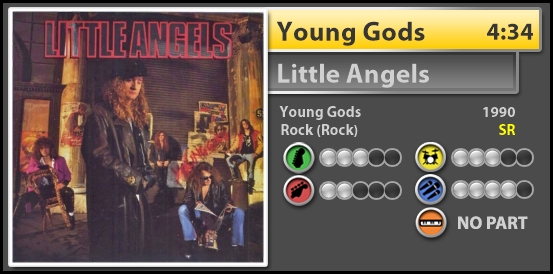 Spindoctor: "Tuff Enuff"
"Tuff Enuff" by The Fabulous Thunderbirds. The song was included on the album Tuff Enuff and was produced by Dave Edmunds. Released as a single in 1986, "Tuff Enuff" peaked at number 10 on the Billboard Hot 100 chart and number four on the Billboard Mainstream Rock Tracks chart and it reached the top 20 charts in other countries and number 83 in Australia. It was ranked number 96 on VH1's "100 Greatest One Hit Wonders of the 80s". It was the band's first single, and has since become its signature song.
I couldn't tell you why I picked this really, I have literally mapped and started thousands of songs. Most remind me of my younger days. They also have to be something I can stand listening to hundreds of times."- Spindoctor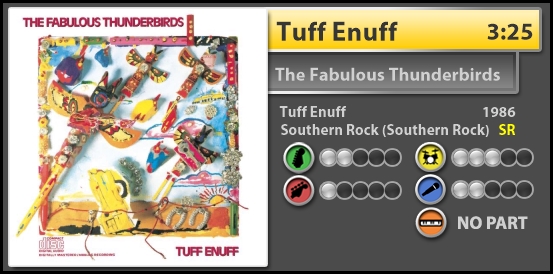 Jerrylive365 – "Keep Pushin'"
"Keep Pushin" is a power ballad by the American rock band REO Speedwagon, Written by Kevin Cronin from their 1976 album R.E.O..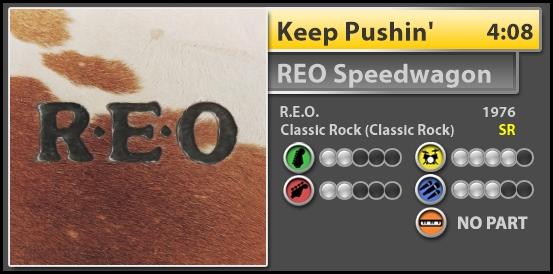 LuisJackRamirez: "Freedom"
"Freedom" is a 1987 single by rock singer Alice Cooper, taken from his seventeenth solo studio album, Raise Your Fist and Yell. It was written by Alice Cooper and Kane Roberts.
The song was the only single released from Raise Your Fist and Yell. It did not chart in the US when released in late 1987; however, it reached #50 on the UK charts in early 1988. The single's B-side in both countries was the album track "Time to Kill". – LuisJackRamirez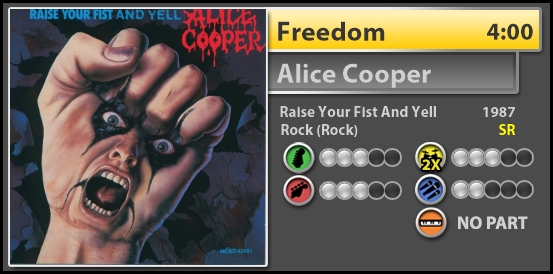 CapnKris "Born To Be Alive"
Disco is one of those super fun genres for Rock Band parties to just rock out and have a good time to, and that was why I picked Born to be Alive. My choices for customs usually involve me trying to branch out into different genres or try something not done as commonly, as well as the fact that the world could always use more disco. – CapnKris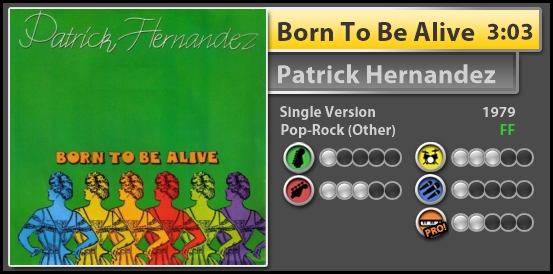 JKSRB: "Slick Black Cadillac"
"Slick Black Cadillac was originally released on Quiet Riot II (a Japanese only release) in 1978. The band rerecorded it for inclusion on 1983's Metal Health."
"Unfortunately for the speakers and suspension in the family's 1978 Ford Econoline, that was also the year I got my license. A good portion of the summer was spent on the backroads with the tape deck cranked and the gas pedal approaching the floor when Slick Black Cadillac came on. For a young drummer, the huge tom fills play just as well on the steering wheel." – JKSRB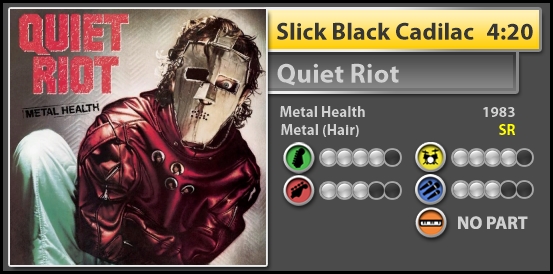 "Mannish Boy"
"Mannish Boy" is a blues standard by Muddy Waters. First recorded in 1955, the song is both an arrangement of and an "answer song" to Bo Diddley's "I'm a Man", which was in turn inspired by Waters' and Willie Dixon's "Hoochie Coochie Man". "Mannish Boy" features a repeating stop-time figure on one chord throughout the song and is credited to Waters, Mel London, and Bo Diddley."
"Although the song contains sexual boasting, its repetition of "I'm a man, I spell M, A child, N" was understood as political. Waters had recently left the South for Chicago. "Growing up in the South, African-Americans [would] never be referred to as a man – but as 'boy'. In this context, the song [is] an assertion of black manhood."
"I have listened to this song at least once a week for the past 30 years. It is a staple in my mind as it should be. And there is a 90% chance that whatever you are listening to now, can be 7 degrees of Kevin Baconed back to Muddy Waters." – RubyDanger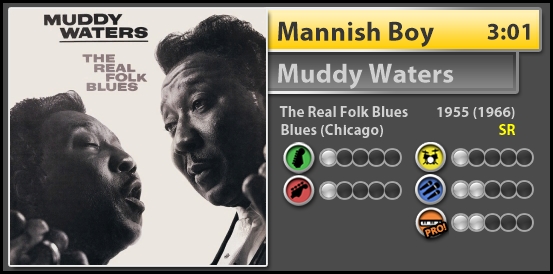 Hope you all enjoy the songs! We have a lot more planned for 2021!