Releases
Chart-a-thon Day 15, Slot 2: The Replacements!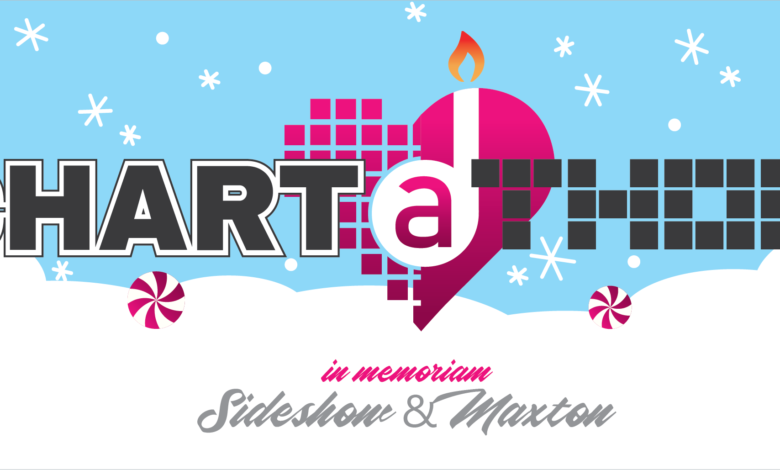 So, it was a year ago me and Kamotch decided to team up on our Pavement project – which resulted in 18 (!) Pavement songs hitting the DB. Now for Chart-a-thon, we decided to reprise this collaboration with another, equally awesome band: The Replacements!
Striking an imprecise balance of recklessness and heart, the Replacements were one of the most beloved bands to emerge from the American rock & roll underground of the 1980s. They are among the most legendary punk bands in history, and are responsible for two of the greatest albums of the 80's – "Tim" and "Let it Be" – plus a lot more. They have a weird balance of drunk teenagers smashing stuff, and genius songwriters writing some of the most heartfelt rock songs ever.
RB players most likely will recognize "Alex Chilton", which was an on-disc track for RB2, as well as "Kids Don't Follow" which was official DLC. 5 other Replacements tracks were charted as customs, but it wasn't anywhere near enough to cover the scope of their work. So now it's finally time for a more complete Replacements pack, which will cover many missing classics, along with fan favorites. So let's go!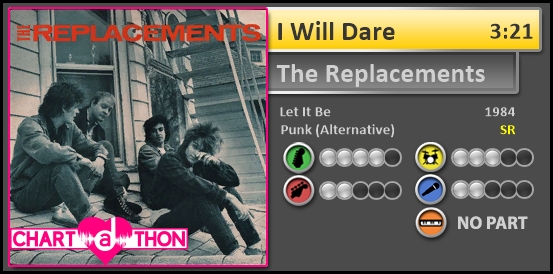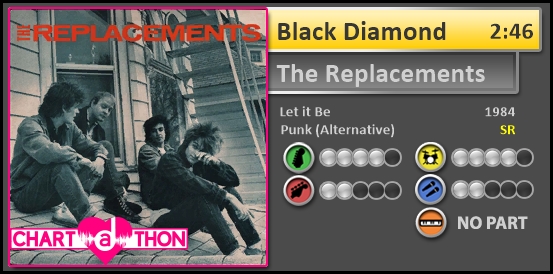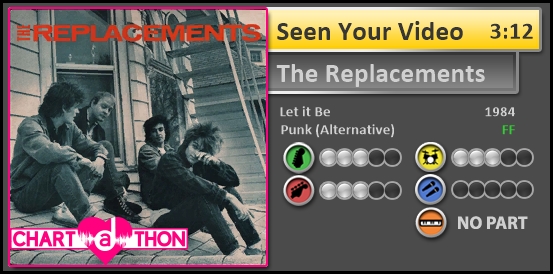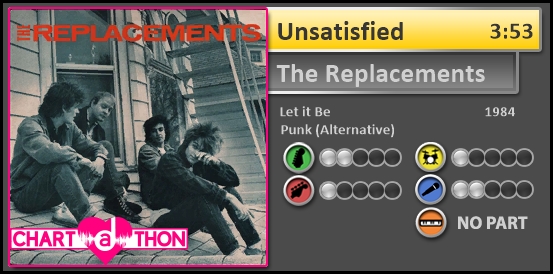 "Let It Be" looms large among '80s rock albums, generally regarded as one of the greatest records of the decade. You would maybe imagine a well-crafted, serious masterpiece, like a "Disintegration" or "The Queen is Dead" equivalent, but "Let It Be" is the exact opposite; it's all a ragged mess, careening wildly from boner jokes to wounded ballads, from utter throwaways to songs haunting in their power. But those were the Replacements, who never separated high and low culture, who celebrated pure junk and reluctantly bared their soul. "Let It Be" is nothing if not a coming-of-age album. There's just enough angst and tastelessness to appeal to teenagers of all generations, and just enough complicated emotion to make this music resonate with listeners long past those awkward years, whether they grew up with this album or not.
We are happy to bring 4 new "Let it Be" tracks to the platform (in addition to the previously available "Favorite Thing"). Leading the pack is "I Will Dare" – among their most legendary songs. A bit lighter than their usual punk, "I Will Dare" has a strong jangle pop sound, and a guitar solo played by R.E.M. guitarist Peter Buck. It's frequently referred to as one of their best and most beloved songs, voted their best by Ultimate Classic Rock who named it "As bouncy, jangly and infectious as an early Beatles hit", and it was included in The Rock and Roll Hall of Fame's 500 Songs that Shaped Rock and Roll.
Up ahead, we got two of the albums punky, messy tracks. "Black Diamond" is a cover of the Kiss song of the same name. A Kiss cover isn't exactly what you would expect to find in one of the most critically acclaimed rock albums of all time, but here we are. It's energetic, racious, heavy, and in my humble opinion better than the original. "Seen Your Video" is a mostly instrumental jam, with guitar riffs that are pure fire through the whole song, and it's just one hell of a thing.
Lastly, "Unsatisfied", perhaps the middle point – raw, unsettled, and beautiful, it's one of the Replacements masterpieces. "Unsatisfied" doesn't express much lyrically, other than the idea of being, well, unsatisfied. With work, with life, with everything. It's partly about the Replacements themselves: "the feeling that we're never going anywhere and the music we're playing is not the music I feel and I don't know what to do and I don't know how to express myself. I felt that one to the absolute bone when I did it" said Paul Westerberg. In a way, it's a cry for help. It's another big one.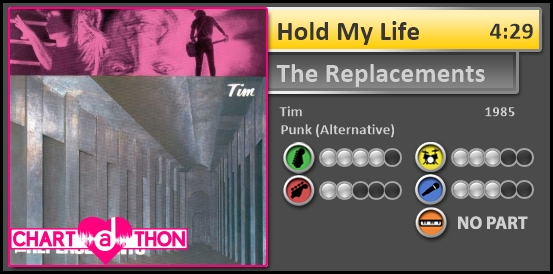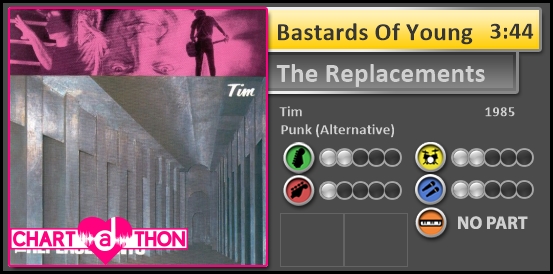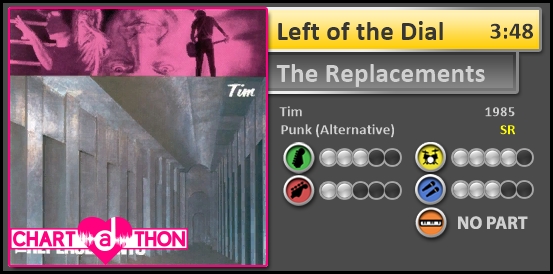 The successor to "Let it Be" was also the Replacements major label debut, and it was definitely different in many ways. The production is somewhat slicker by their standard (though still quite messy by anyone else's), the songs have grown to be bigger and more anthem-y, and the throwaways and Kiss covers were mostly left behind. Despite those changes, the Replacements managed to recapture the core of the band, their soul transferred completely to the major label, and the songs are just unbelievable.
We kick off with "Hold My Life", a classic 'Mats rocker with some epic guitar riffs, a classic chorus, and quite a difficult guitar solo! Next are two of the Replacements' absolutely biggest anthems. "Bastards of Young" is a rallying cry, a generational song, with a huge chorus (that's often misheard – it's "wait on the sons of no one", not "we are the sons"). In reality, it's partially inspired by Westerberg's sister who left for New York to try her acting career – "my sister who felt the need to be something by going somewhere else. It is sort of the Replacements feeling the same way … not knowing where we fit. It's our way of reaching a hand out and saying, 'We are right along with you. We are just as confused". And most famously, The Replacements played it on SNL, where they showed up drunk, cursed mid-air and ended up banned from the show forever. Rock and roll.
Last from this album is the beautiful "Left of the Dial". Half a love song, half an ode to alternative radio stations – the only one who played the Replacements – and since their stations were in lower numbers, they were frequently left of the dial. It has a story telling quality in it that's unusual for the Mats, and the love song bit was apparently about Lynn Blakely of the band Let's Active. To this day, it remains a favorite for alternative radio stations, and it's definitely up there with the Replacements' best material.
Hello. Kamotch here. For my one contribution to this long-winded article (Shout out to Yaniv since he's a superstar), I'm here to explain "Nowhere is My Home". I personally found out about this song from a deluxe version of their already mentioned "Tim" album. And I imagine most people will have first heard of it that way considering it was initially released on a rare compilation album called "Boink!!". Despite making their major-label debut a year earlier, this album was released on independent label Glass Records seemingly only in the UK. It contained songs from their second LP "Hootenany" as well as their EP "Stink" (including official Rock Band DLC "Kids Don't Follow"), but the only previously-unreleased track was "Nowhere is My Home". The song is perhaps the only officially-released track of theirs produced by Big Star frontman Alex Chilton, who is of course the subject of their song "Alex Chilton" included on the Rock Band 2 on-disc tracklist. Anyway the song slaps and deserves more attention, so try it out!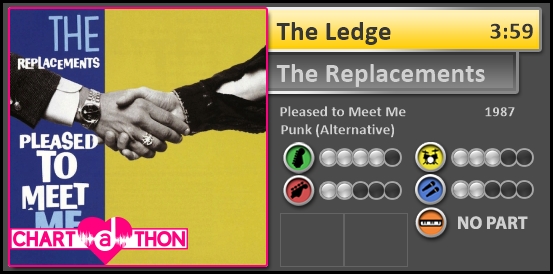 Now recording as a trio, after lead guitarist Bob Stinson (who kept pushing in the hardcore punk direction) left the band, the Replacements style was getting closer to mainstream. "Pleased to Meet Me" included the catchy "Alex Chilton" (known from RB2), among others, it also included experiments in soul and jazz, and even saxophone – but it also rocked pretty damn hard.
Opener "I.O.U" is one of the fastest, hardest rocking tracks they've done since their early drunk teenage albums. It's a big classic and fan favorite, with the climatic hook: "I want it in writing, I owe you nothing…". "The Ledge" was released as a single, only to be banned from almost-everywhere because of its suicide-relataed lyrics. But it's an awesome song, with dark lyrics, catchy chorus and bit, and some very challenging guitar solos.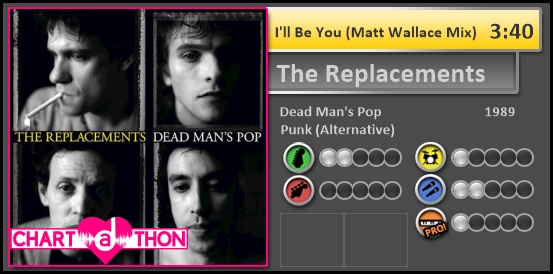 The band's next album, "Don't Tell a Soul", was more poppy and accessible than ever, mostly thanks to the radio-friendly mix the band absolutely hated. In 2019 the album was finally remixed, by original producer Matt Wallace, in a new version called "Dead Man's Pop", now widely acknowledged as the definitive version of the album. Which is actually beneath the mix debate, a damn good album.
"I'll Be You" is a clear highlight. It was the lead single, and was the only time the Replacements ever reached the Billboard Hot 100 (Reaching number 51). In classic Replacements fashion, the band played the song right in the beginning of the shows, and watched how many of the audience would walk out after it because they didn't know anything else. But other than the relative commercial success, "I'll Be You" is simply a great song. It has a lot of soul in it, it's one of Westerberg's finest melodies, and the climatic high-octave first is one of the finest climaxes the Replacements ever did. It's one of my favorites, and a great song to cap off this pack with.
So that's it! It was long but hopefully you stayed with us. See you in a few days!