C3 Legacy
August 16, 2013 – Queen 3-pack, Shinedown 4-pack, 3 multitrack FtV hits, and RBHP!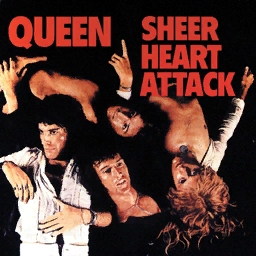 Note: Videos may contain authoring issues that have been fixed, and are for preview purposes only.



New! Queen Piano Songs 3-pack (farottone)
Queen – "Lily of the Valley"
Queen – "Love of My Life"
Queen – "Take My Breath Away"
New! Shinedown 4-pack (ws54)
Shinedown – "Amaryllis"
Shinedown – "Cry For Help"
Shinedown – "Enemies" (2x Bass Pedal also available)
Shinedown – "If You Only Knew"
From the Vault: Singles (TrojanNemo)
Mumford & Sons – "The Cave"

K



The Rolling Stones – "Paint It, Black" M

X




Converted from Guitar Hero 3

Train – "Hey, Soul Sister"

M
A red X denotes Pro Guitar/Pro Bass, a blue M denotes full multitracks, and a blue K denotes a "karaoke" multitrack (separated vocals).
---
Remember the Disturbed vs. Jimmy Buffett week? Well…
Queen is often remembered for full-band rocking numbers like "Crazy Little Thing Called Love" or "I Want It All", but it's not all about Brian May's guitar licks and arena-filling drum parts. farottone is back to celebrate three of their softer ballads, which keep the band's amazing harmonies and Freddy Mercury's stunning voice, but also pull in his piano skills to drive the songs. These songs have very minimal guitar/bass/drums parts, so bust out those keyboards and mics and go to town! The pack features a selection of ballads from across Queen's '70s discography, including tracks from Sheer Heart Attack, A Night at the Opera, and A Day at the Races. (As a side note: Do you own both the original Queen DLC and the RB3 versions? Do you want to delete some of the songs from a pack and not others, or remove "RB3 version" from the title of the new ones? These are all possible! Ask around in our forums!)
On the other end of the spectrum, ws54 provides a 4-pack from Florida hard rockers Shinedown, with drums and venue authoring assistance from DVDSmith. These four songs from The Sound of Madness and Amaryllis join four existing songs from The Sound of Madness ("Devour", "Junkies for Fame", "The Crow & the Butterfly", "Second Chance"), one from Amaryllis ("Bully"), and "Diamond Eyes" to create a robust Shinedown presence in the RB library. Several of these songs feature challenging instrument parts, and all of them have plenty of harmony action.
Our From the Vault tracks run the gamut this week. (A "From the Vault" song is a custom previously released to the Internet that has since been patched up to C3 standards, and is now being formally released.) TrojanNemo brings us all three songs this week, and all three have some kind of multitrack audio stems! We start with Mumford & Sons' "The Cave", one of their biggest hits alongside "I Will Wait" and "Little Lion Man", which has a separated vocals stem. Rock out with your banjo out! Next is The Rolling Stones' huge classic "Paint It, Black", featured here as a port from GH3 with added drums, vocals, and harmonies. But wait, there's more! For just $0 extra, you get a brand new audio stem configuration, too! It slices! It dices! It was hand-crafted by Orange Harrison! These new stems make this GH3 classic a proper member of the Rock Band library. Finally, we've got Train's "Hey, Soul Sister", also with fully multitracked stems. You've almost certainly heard this song on the radio, and now you can hear it at your Rock Band parties.
Finally, we've got another Rock Band Harmonies Project release! espher, GreenPanda12, Oddbrother, and thomeval bring us 12 new harmony upgrades, 12 new Pro Drums upgrades, and plenty of variants and fixes to previous charts. For the full list, check the end of this blog post.
See you next Friday!

---
New!

Queen Piano Songs 3-pack (farottone)
---
New!

Shinedown 4-pack (ws54)

Additional authoring credits (all songs): DVDSmith (drums, venues)


Download 2x Bass Pedal version ("Enemies")

---
FtV:

Mumford & Sons – "The Cave" (TrojanNemo)
FtV:

The Rolling Stones – "Paint It, Black" (TrojanNemo)

Additional authoring credits: columbo777 (Pro G/B), Orange Harrison (stems, mix, drums), Drihscol (drums)
FtV:

Train – "Hey, Soul Sister" (TrojanNemo)

Additional authoring credits: RyanHYK (guitar)
Rock Band Harmonies Project – August 13, 2013
Rock Band DLC 2007 Harmony Upgrades
Wolfmother – "Joker & The Thief" (GreenPanda12)
Rock Band DLC 2008 Harmony Upgrades
Angels & Airwaves – "It Hurts" (GreenPanda12)
Fall Out Boy – "This Ain't a Scene, It's an Arms Race" (espher)
Nirvana – "Polly" (Oddbrother)
Nirvana – "On a Plain" (espher)
Nirvana – "Something in the Way" (espher)
Nirvana – "Stay Away" (espher)
Yeah Yeah Yeahs – "Date With the Night" (espher)
Rock Band DLC 2010 Harmony Upgrades
Jimmy Eat World – "My Best Theory" (GreenPanda12)
Jimmy Eat World – "Pain" (GreenPanda12)
Rock Band Network Harmony Upgrades
Amberian Dawn – "He Sleeps in a Grove" (GreenPanda12) (inc. previously released pro drums by CyclopsDragon)
Color Theory – "If Not Now When" (GreenPanda12)
Rock Band Network Pro Drum Upgrades
A Day to Remember – "I'm Made of Wax, Larry, What Are You Made Of?" (GreenPanda12)
All That Remains – "Undone" (GreenPanda12)
All Time Low – "Walls" (GreenPanda12)
Anarbor – "Let the Games Begin" (GreenPanda12)
Color Theory – "If Not Now When" (GreenPanda12)
Dance Gavin Dance – "Tree Village" (GreenPanda12)
GWAR – "Let Us Slay" (GreenPanda12)
In This Moment – "Mechanical Love" (GreenPanda12)
Parry Gripp – "Nom Nom Nom Nom Nom Nom Nom" (GreenPanda12)
Scale the Summit – "The Great Plains" (GreenPanda12)
The Shins – "Saint Simon" (GreenPanda12)
The Shins – "So Says I" (GreenPanda12)
Optional Variants
Fall Out Boy – "This Ain't a Scene, It's an Arms Race" (DLC08) – Variant: Misheard lyrics chart (thomeval)
Optional Chart Fixes
Clandestine – "Disappear in You" (RBN) – Fix (Playability): Guitar HOPOs. (GreenPanda12)
Revisions to Previously Released Upgrades
All That Remains – "Days Without" (RBN) – Pro Drums: Correction. (GreenPanda12)
Clandestine – "Disappear in You" (RBN) – Pro Drums: Correction. (GreenPanda12)
Let's Get It – "Do Not Disturb (Tell Me How Bad)" (RBN) – Pro Drums: Correction. (GreenPanda12)
Mayday Parade – "When I Get Home You're So Dead" (RBN) – Pro Drums: Correction. (GreenPanda12)
The New Pornographers – "Electric Version" (RB1) – Harms: Fixed note pitch. (espher)
Weezer – "The Greatest Man That Ever Lived" (DLC08) – Harms: Added missing note/lyric. (espher)