Releases
12 Days of Chartmas – A White Christmas
Merry Christmas to all you wonderful rhythm gaming folks! To celebrate I come bearing gifts – a modest but hopefully fun offering of two customs for you to enjoy. They may both have "white" in the title but I can assure you they are two very different songs.
Not much to say about this one. It's heavy, probably one of the many songs about Richard's angsty existence, and has a somewhat complicated drum pattern. It sounds a lot like "Hey Man Nice Shot" and pretty much every other song off their debut album.
This song is pretty straightforward, in fact so straightforward that it was super easy to get pro guitar/bass charted. Hope you like Drop D bar chords!
The 1995 single of "Hey Man Nice Shot" includes a dictaphone version of "White Like That" which, yes, is recorded on a dictophone. Or at least was engineered to sound like it was.
Dirty Vegas – Little White Doves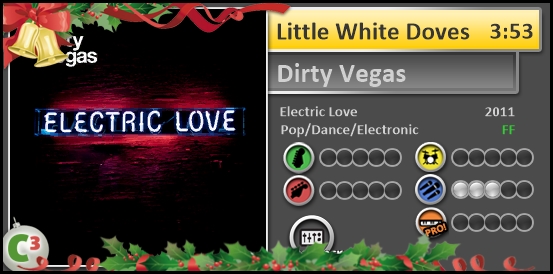 While Dirty Vegas never really got much spotlight outside of their hit "Days Go By" that certainly didn't stop them from continuing to make their electronic-fueled, upbeat-tempo songs. You want an anthem? Here's one to get your blood pumping and make you want to go out and slap stickers on a police officer (check out the music video if you're confused). This may not have pro guitar/bass (yet) but to compensate here are full multitracks for your enjoyment.
Happy Christmas to all!