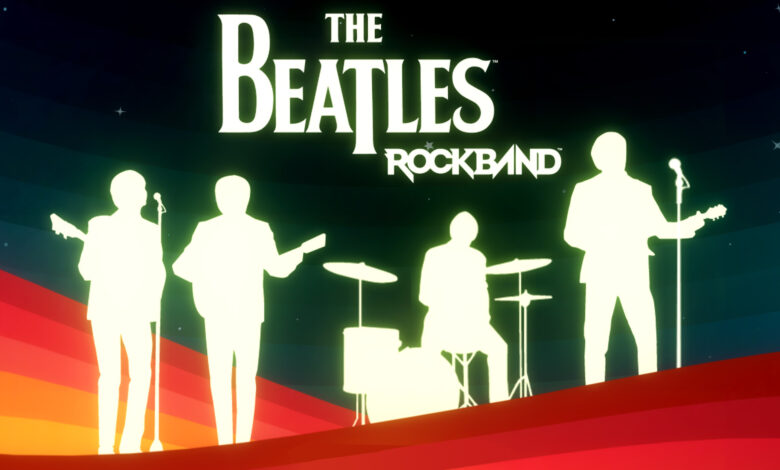 The Beatles Rock Band Custom DLC Project are back again with another release, and also a retrospective of all that has occurred over the past year of us starting this project. This release will be slightly different from the usual, due to wanting to shine some focus on what we've achieved together over the past year, and also just to give you all a general peek behind the scenes.
Meet The Team
First off, I'd like to introduce you all to the people that have been involved with the project over the past year and give a quick rundown of what everyone's roles are.
While this generally may seem a lot if you're used to more traditional customs such as the ones typically produced for games such as Rock Band 3, the workload for a TBRB custom is much more involved, and it's thanks to the hard work of everyone above that we can not only produce content in the quality that we do, but that we can also produce high quality content in the quantity that we do too.
Releases
Speaking of the quantity of releases, the release today marks the 50th custom that we have released for The Beatles: Rock Band, bringing your library up to 95 songs without the previously released Harmonix DLC, or if you do, 124 songs, greatly expanding over the 74 total songs that TBRB fans have been able to play before start of the project.
Out of the 50 so far, we have released
One thing that we pride ourselves on is the quality of each release. Our goal for the project was "seamlessly add new songs into TBRB" and while our quality is getting better all the time, which I feel we have achieved over the past year. All of our releases feature custom animations, venues and
dreamscapes for each song, with extended research on a per-song basis to ensure that the outfits and instruments used are era appropriate along with custom audio mixing designed to match the game, complete with isolated instrumental tracks.
Mistakes Along the Way (or at least the fun ones)
Of course, development is not always smooth-sailing either, and I'd like to showcase some fun bugs that we've encountered during our adventures with the game, and to also serve as a fun behind the scenes.

Sometimes it's fun animation glitches…
Othertimes, we counter random full-game lockups, which resulted in this very daft-punk inspired remix of "Boys" (https://streamable.com/bc97r)
And you know, it's fun to just experiment with things we find in-game, such as when we discovered that Ringo had unused animations in Within You Without You (https://streamable.com/o6t0sb)
Community
The next thing I'd like to show appreciation for is the community that has formed around our customs, this is honestly one thing that we didn't expect when we started this project.
While we knew we had something special, we thought the higher barrier of entry and more complicated setup process than the standard RB3 custom installation would discourage people from playing our customs, but it appears this was not as big of concern as initally thought , and we frequently see people obtaining modded consoles just to play our content, which is amazing to see that people value our work so highly.
Our main location for community interaction is our Discord server, which is located at https://discord.gg/XM9gexj and features over 1300 members now, so make sure to join the server to find a bunch of likeminded Beatles and Rock Band fans to converse, form bands with and interact with the staff behind the project.
If you're new to the project, I would also invite you to check out our YouTube channel over at https://www.youtube.com/c/TBRBCDLC/, which features videos of all of our past releases, along with each trailer for the major packs to quickly catch up on what has been released over the past year.
I wouldn't want to end our anniversary without a little treat for you all too, so, presenting
"The Night Before/Christmas Time (Is Here Again)"
"The Night Before"
Music Video
Chart Preview
(Released on Discord – 12/24/2020)
"The Night Before" was produced for the band's 1965 movie "Help" and is commonly regarded as one of the most frequently 'overlooked' Beatles tracks among fans of the band. Featuring the band's trademark call and response style of vocals, and a stand-out double tracked guitar solo, The Night Before is sure to feel at home in your The Beatles: Rock Band library, joining the title track "Help!", "Ticket To Ride" and "Yesterday" from the same album.
I would also like to thank Farottone for allowing us to use their Rock Band 3
"The Night Before" custom as a starting point for this release. If you are a Rock Band 3 player, please make sure to grab Farrotone's version for that game too!
"Christmas Time (Is Here Again)"
"Christmas Time (Is Here Again)" is a Christmas song initially released to members of the Beatles Fan Club in 1967 as part of the yearly vinyl records sent to members. The song later went on to appear on the Free as a Bird single release, making it the first commercial release from the Christmas Records. This version features greetings from each member, which were previously recorded in 1966 for two pirate radio stations operating within the UK. The track ends with a poem narrated by John while he plays "Auld Lang Syne" in the background. This is in tribute to Scotland, where John spent many Christmas days as a child.
To close things off.
Happy holidays from the TBRB Customs team, and let's bring on the next year!