Releases
Chart-a-thon 2021 Day 23, Slot 1: Wilco!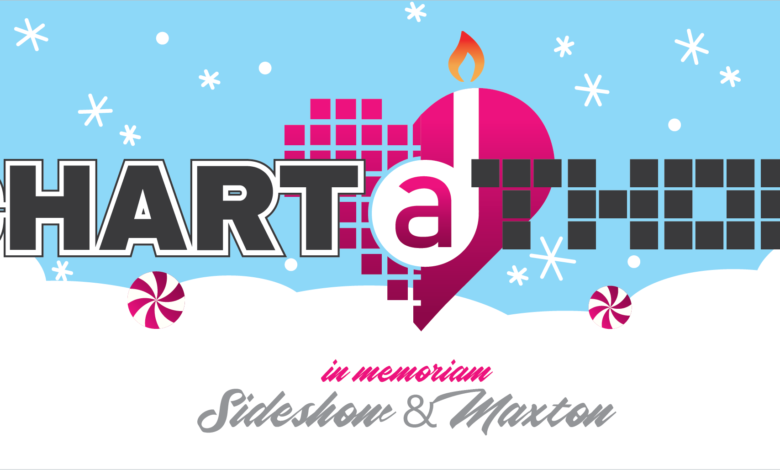 So, time to pay tribute to another phenomenal band, one I've been listening to a lot lately. Wilco started out as a ​​rough-and-tumble alt-country act, and evolved into a mature and eclectic indie rock ensemble that was often compared to "the American Radiohead" (even though the similarities are kinda limited, tbh). Wilco's biggest critical success is 2002's "Yankee Hotel Foxtrot", frequently referred to as one of the best albums of the decade (and we've charted 4 songs from it previously), but this pack is about exploring Wilco's other – and equally amazing – releases.
Thanks a lot to EdTanguy, who joined me in this project and gave some absolutely awesome and invaluable contributions. Pleasure to work with! So let's go: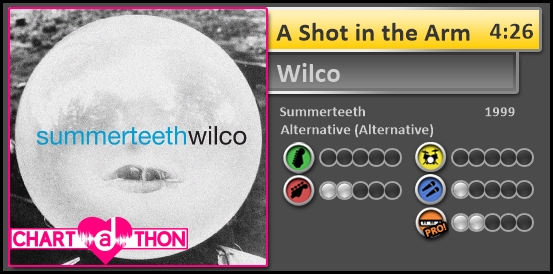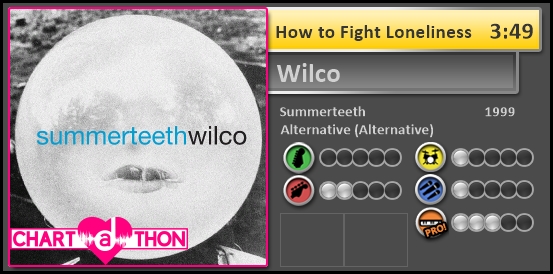 For me, 1999's "Summerteeth" is possibly Wilco's best record (it's really hard to compare all of them!). It marked the spot where Wilco almost entirely abandoned the country influences, and instead, concocted a stunning set of off-kilter, experimental pop, suggesting a Midwestern fusion of peak-era Brian Wilson and Big Star's 3rd. The seeds of "Yankee" are really there. "A Shot in the Arm" has became one of the classics from it – based on a catchy piano riff, it's an epic anthem that kills live. "How to Fight Loneliness" is more subdued, as the name suggest, but it's an absolutely beautiful song, based on a slight bossa-nova groove with brilliant piano additions and a beautiful bass line.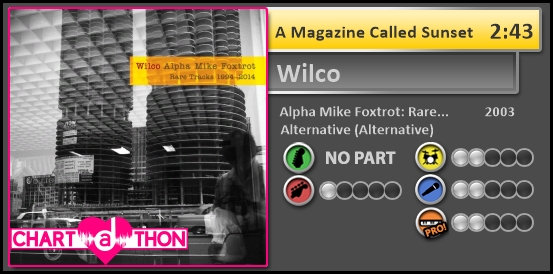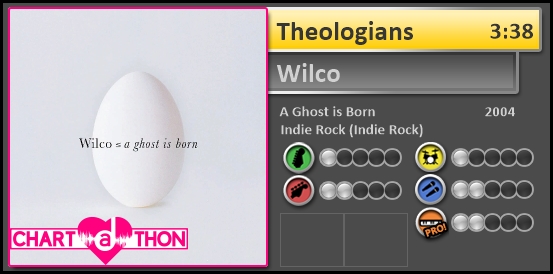 So, no new songs from "Yankee" on this pack, but this "Yankee" outtake is up there with the best of them. "A Magazine Called Sunset" was apparently cut off the album because it was judged "too happy", but it's still a legendary b-side, with some great drum parts, catchy, fun and just great. Moving up to the next album, "Theologians" is a religion-themed banger from "A Ghost is Born" (even though it's quite cynical about the whole religion thing), based on some nice piano, an epic bassline (btw Wilco bass is really underrated) and great guitars. Also, apparently it's written from the perception of Jesus…? Not sure about that one, but that's a fairly common fan theory!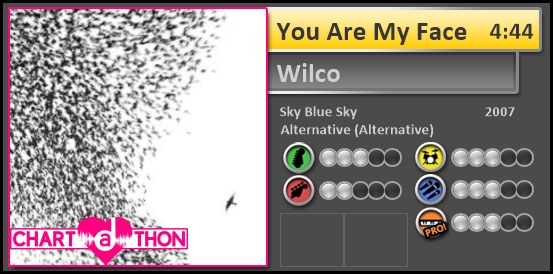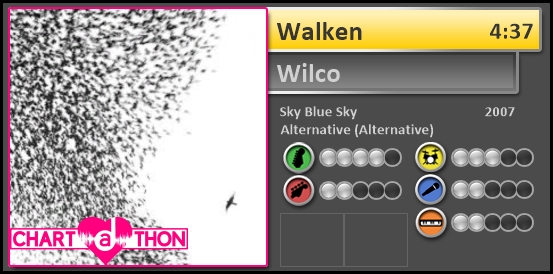 "Sky Blue Sky" might be a weird album to focus on in Wilco's discography. Their first with guitar virtuoso Nels Cline in the lineup, it was at first dismissed as "dad rock", because it was a lot less experimental than its predecessors. But with them, it revealed itself to be an absolute phenomenal record, and you know what – an hyped indie band taking cues from Steely Dan and The Grateful Dead is actually a lot braver than just putting noise all over it and getting bonus points for being "experimental". And really, this album is loaded up with great songs, top to bottom.
After it kicks off with the beautiful "Either Way" (charted here), "You Are My Face" kicks in. At first with one chord, some nice three part harmonies, but then it explodes into a huge, blusey bridge, an epic guitar solo, a drum solo, and it's just a phenomenal song all around. 
And then "Walken", honestly one of the most fun songs in the game, I kid you not. "Walken" is just phenomenal on every instrument. EdTanguy did an amazing job on guitar – just an insane guitar chart – and pro keys and vocals too. Drums and bass are insanely groovy, the band is on fire from the first moment to the last, each of the instrumental passages is more fire than the last. In a way, it's a silly song, but it also has Wilco firing on all cylinders.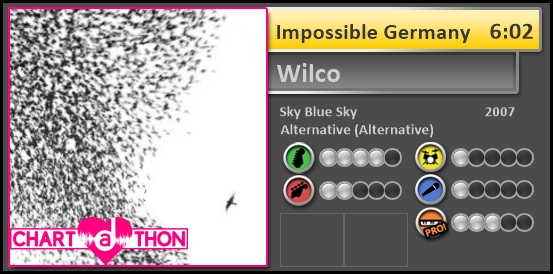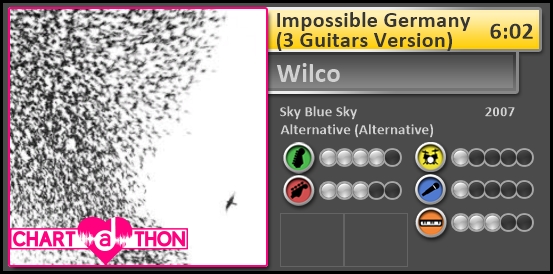 EdTanugy writes:
Impossible Germany feels a bit like an Indie Rock Freebird. It's about 6 mins long and starts gentle, Eventually culminating in a high energy, high gain, guitar solo. However this song isn't near as dull and repetitive. The 3 guitar parts all have something unique to offer during the main bulk of the song, which is why I felt it was necessary to have a version where you play all 3 guitar parts separately (on guitar, bass and keys). It's quite an adventure to play through and I find myself playing this, and the other Wilco songs, again and again.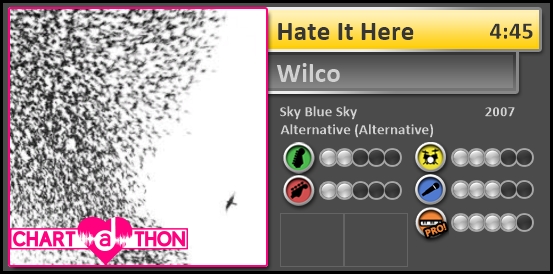 EdTanguy writes:
Hate It Here hits hard, both lyrically and on the guitar riff during the choruses. I'm not a drummer, but the drums do look fun also. I'm glad to have been involved with songs from this album, even if I can only push myself as far as vocals and expert guitar/prokeys. But these are fun songs, a great album, and most of all, they feel good to play in game. The notes feel powerful, and even the silence between notes hype you up for the following note or lick. It's great stuff.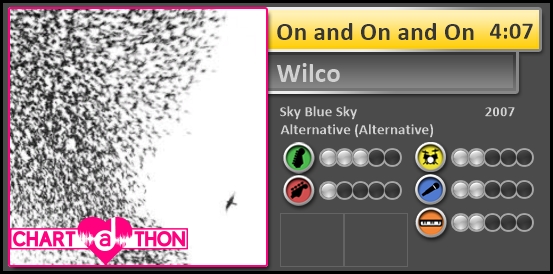 The closing song of "Sky Blue Sky" was one of my favorites songs for ages, so it needed to be here. Jeff Tweedy wrote this song for his father after his mother passed away. It's heartbreaking – "please don't cry, we're designed to die" – but also very hopeful, and just beautiful. At first it's mostly just guitar, but it also explodes into a band climax with some great drum fills, so it's really fun to play too.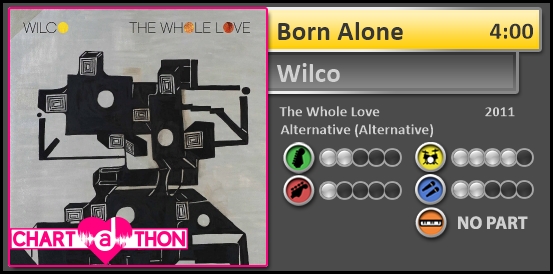 Finishing up with a slightly newer track, "Born Alone" is from 2011's "The Whole Love", considered a very strong Wilco offering after the disappointment of their 2009 self-titled album. "Born Alone" rocks hard – it's a great song, that explodes into several high energy bits, with the final section simply being a huge, long climax where the entire band are playing super loud – playing a chromatic sequence of ever dropping chords. It's another great song for their catalog.
That's it, see you next time!