Releases
Australian Music is about to say "G'day May8". 20 Different Aussie Customs.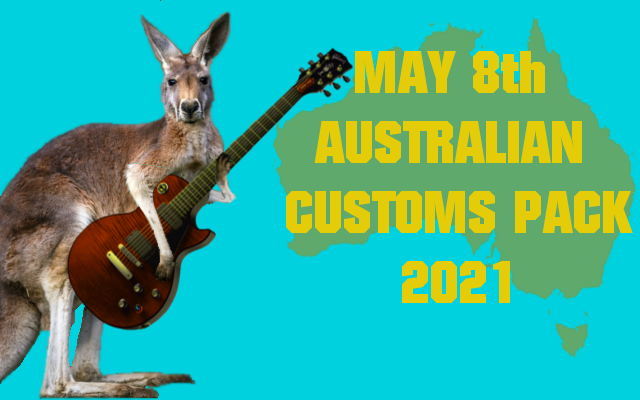 Australia is filled with many great artists, some that are well known to the world such as AC/DC and INXS, some that have made important progress in specific genres such as The Saints. But others that hadn't really made it out of the country but certainly need your attention, and today, 20 songs from 15 different artists are going to say G'day May 8.

This was an event a few authors, myself included did last year where the restriction was on picking only one decade, this is an event I plan on doing yearly so be on the lookout for more of it.

This year, the collaboration was done by 10 different authors/groups, there was one restriction apart from Australian Music, each Author could only pick songs from a certain genre of music. Let's Begin with…

Bansheeflyer – New Wave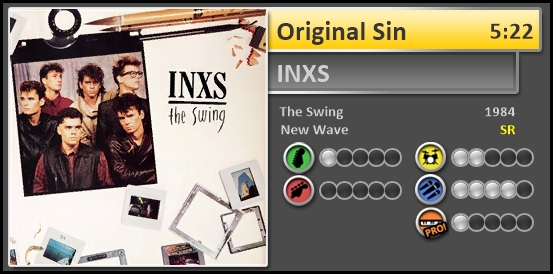 Banshee writes…
"'Original Sin' was the first single released off The Swing and hit the top of the charts in Australia (#58 in the US) and was an international success. Featuring a driving beat, somewhat uncharacteristically prominent bass for an INXS song, and a funk-based guitar riff, this song was produced by the legendary Nile Rodgers who managed to get Daryl Hall (yes, that Daryl Hall) to sing harmonies. Originally the song only mentioned "white boy, white girl" but Rodgers, who grew up with interracial parents, believed it would be more impactful to trade off "white boy, black girl" and vice-versa. Unfortunately at the time of release there was still enough racial tension among interracial marriage to cause some radio stations to outright ban the song. Regardless the song challenges the listener to disregard these prejudices and to "play with fire" with the one you love.
Like many INXS songs the majority of the instruments aren't terribly complicated outside of Hutchence's vocal capabilities but you'll find some tricky drum fills and fun bass grooves. Enjoy!"
PikedPike – Punk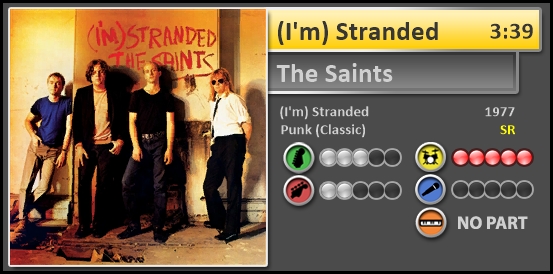 (I'm) Stranded by The Saints is a song that I was surprised had not been done prior, while it was only really a "hit" in Australia, this song is one of the most important punk songs, namely because it is one of the first punk songs. While the recording date of this song is 1977, it was actually written in 1974, well before the punk scene had reached England. The Saints along with Ramones are seen as the makers of Punk music which is more amusing as neither band had heard of eachother, they both made the same music independently (the music being to make music accessible away from the impossibility of Prog). The Saints are also more key for punk as they are from Brisbane Australia, which had similar strict ruling that England had, which businessman Malcolm Mclaren saw and utilized with making the Sex Pistols.

The song itself is pretty fun to play, while only being two chords and a rundown riff, the song is a great work out for the foot pedal on the drum kit, hence the red tier.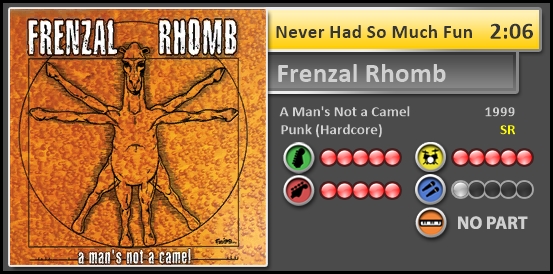 Never Had So Much Fun is the hardest song I have currently charted, and it is only 2 minutes long. Frenzal Rhomb were part of the Australian punk revival movement in the late 1990s along with bands such as The Living End and Bodyjar. However Frenzal Rhomb were arguably the most punk and even got banned off most radio stations, after the band had played AC/DC's "Thunderstruck" over the top of Jackie O's effort to explain her late appearance to the audience as the delay caused a further cut into the band's set time on the Tit for Tat show in 2004. I also managed to open for the band when they played in my town in 2017 and that is still the best thing my band has ever done.

The song itself, brings you into a false sense of security, as it starts at about 120 bpm, but it later kicks in at over 210. And the song has 16ths making the strumming faster than anything on even Through the Fire and the Flames (although obviously not as hard as that song). That said as it is punk, the vox is still pretty easy.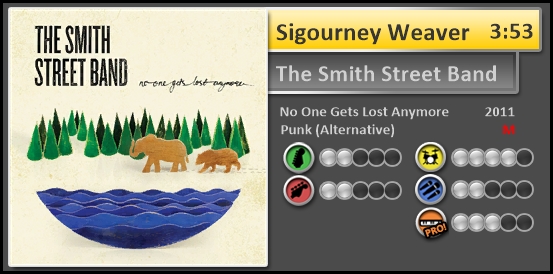 Sigourney Weaver is a song by Folk Punk band The Smith Street Band. This is a punk song from the most recent triple j punk revival of the 2010s. I first heard this song on a compilation CD and I had to chart it for Rock Band.
The song is the only one I have charted with Keyboard, the song has a great feel, while not hard to sing it is extremely fun to. The drums also have some great moments such as the last drum fill of the song.
CapnKris – Rock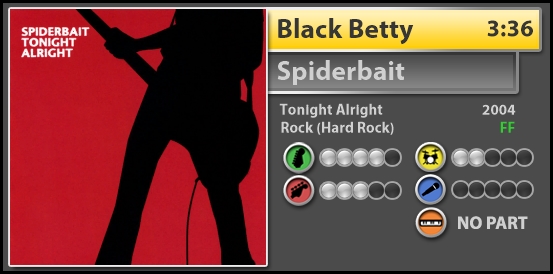 Kris writes…
"This cover by the Australian band Spiderbait released in 2004 and became the bands first Number One single. It expanded in popularity to North America by featuring in Films and Video Games, where I originally heard it in Need For Speed Underground 2. This song is a worthy cover that changes up the original and makes itself into something new, I picked it as its is a great Rock Band song with prominent parts for each instrument and a fun atmosphere. Make sure to check out the venue for this one!"
TheSheepQueen – Alternative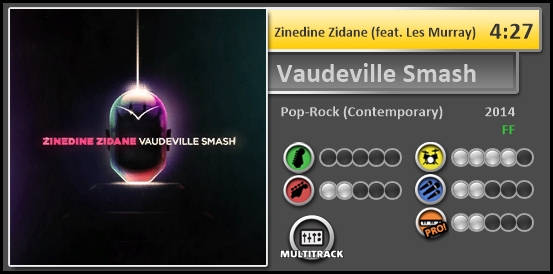 Sheep writes …
"The Victorians of Vaudeville Smash formed in 2009 and consist of "three brothers and two mates". Their mix of funk, disco and alternative rock guaranteed them a good following, but the big blow up came in 2014 with this song made in tribute of french soccer player Zinédine Zidane. It was only natural that such a subject had to be a collaboration with late legendary soccer commentator Les Murray. The verses feature a long list of classic players from now and then, with the bridge giving a special spotlight to the legendary Diego Maradona and Pelé. However, the chorus makes it clear that of all of them, Zidane remains the strongest. The song also features funky bass, tough drum fills and triumphant trumpets."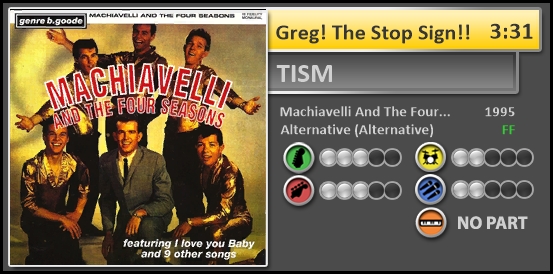 Sheep writes
"TISM have been legends of the alternative Aussie scene, even long after they disbanded in 2004, ending their career with a performance of a conveniently titled song, "TISM Are Shit". Greg! The Stop Sign!! is probably their best known track. The dancey song deals with the fatality of life and how in the end, you don't really pick what's going on in your future and those who succeed now may not in the future, including poor Greg who crashes violently during the song's bridge directly shamelessly stolen from the Shadows track "F.B.I.". The vocals notably feature very challenging harmonies and a consistent disco flip. Watch for that bridge though, in true chaotic TISM fashion, the guitar and bass play in triplets, and the drums don't!"
Devomeister – Prog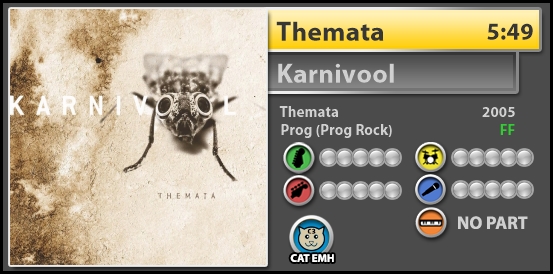 Devomeister writes…
"In 2005, the underground Australian-progressive scene moved into the mainstream with the release of Karnivool's Themata. Themata, which is the band's first full-length album, perfectly represents the genre's blend of alternative music from the 1990s and early 2000s with progressive metal. This album combines the DNA of bands such as Tool, Muse, Soundgarden and Disturbed into a collection of well-crafted songs with great hooks, huge melodies, ripping musicianship, and enough prog to ensure that there is never a dull moment in the album's forty-eight minute run-time.
Karnivool's second full-length album, Sound Awake, shed most of the nu-metal-ness of Themata and moved the band in a more progressive direction. Their third album, Asymmetry, garnered the band an Aria Award (the Australian equivalent of a Grammy).
I chose the song "Themata" from this album not only because it's the song that hooked me on Karnivool back in 2005, but also because I knew it would be as fun as hell to play in Rock Band. The guitar is filled with cool licks and loads of HOPOs that will keep your fingers busy. The bass isn't difficult per se, but it is involved and moves in unexpected ways. The drums will keep your leg and your cymbals plenty busy. Singing the staccato verses is fun, and while the chorus turned out to be too much for my feeble voice to keep up with, it sure was a hoot to try. If you're a fan of the alternative or progressive genres, give this song a try."

Unfortunately the custom is missing harmonies and potential keys, but the rest that is here is worth checking out if you like progressive rock.
Ultimate_Mang0 – Emo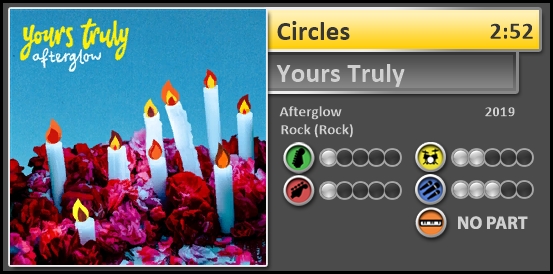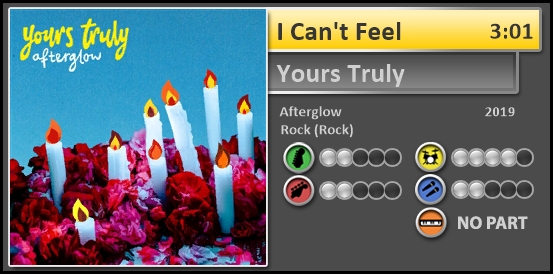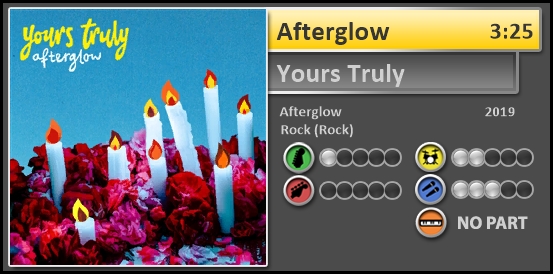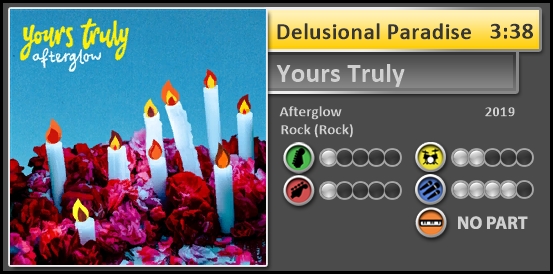 Mang0 writes …
"Yours Truly are an Australian pop-punk band formed in 2016. While browsing a music store with friends, one of them put a CD in my hands and told me "If you like Paramore you will like this" Bought it and listened to it that day. He wasn't kidding. Yours Truly clearly take inspiration from Paramore, but the older "Riot!" days of Paramore. I highly recommend everyone to give this band a listen and see what they think."
Also before anyone asks, yes he forgot to mark the customs as Emo, but it definitely is.
Credit to PikedPike for charting harmonies on 'I can't Feel'
Mr. Person – Novelty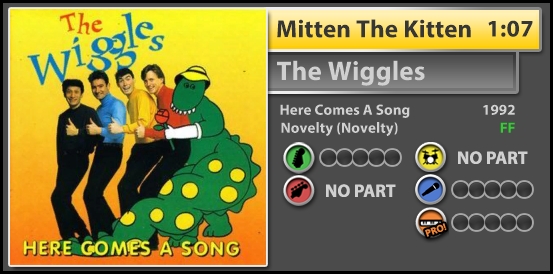 This is the first ever Wiggles custom, it is about time. While not an iconic song, it was picked because it was easy enough to get done in time for the pack. It also is a great show of some of the absolute earliest Wiggles material that exists. Great for anyone that wants Childlike Nostalgia.
JIManji – Indie Rock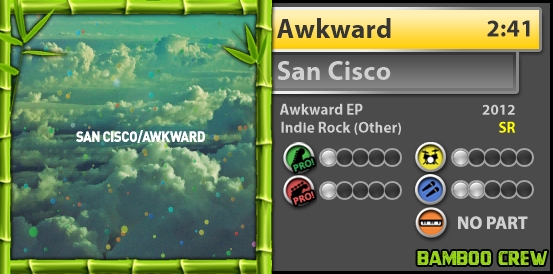 'Awkward' by San Cisco is an indie-pop song that released in 2012. It had even won an awards for the Most Popular Music Video and Most Popular Single at the Western Australian Music Awards. The Song was also used in KFC commercials.

The song itself is pretty basic but the groove is satisfying to play. It is also great with the two vocal parts.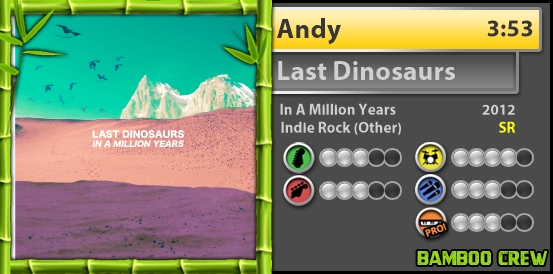 'Andy' by the Last Dinosaurs is an indie-rock song that released the same year as the previous custom. Coming off the album 'In A Million Years', the album was pretty critically acclaimed although it didn't do that well. But the song is a great one and JIManji wanted to show everyone this hidden gem.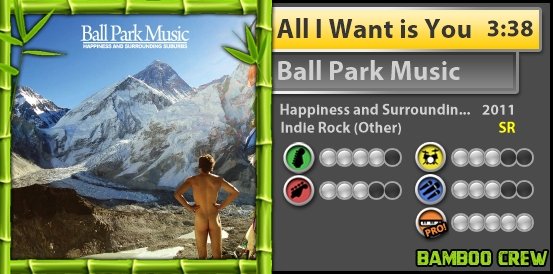 'All I Want is You' by Ball Part Music is another song that JIManji has charted from the great indie rock band from Brisbane. He has charted a song from this band last year too.
This song is really fun to play, especially on both guitar and keyboard (Credit to PikedPike for charting the expert Pro Keys). So he hopes that you all check this one out.
Buster66 – Pop Rock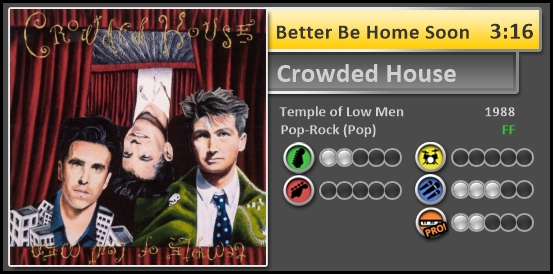 Buster writes…
"Not being Australian, I'm sure I know less about Crowded House than most people. However being of the MTV generation, I remember when their music was everywhere. This song was the first single from their second album "Temple of Low Men" and actually the only song I remember getting air play from that album in Canada.
I am a sucker for killer harmonies and this song has a harmony hook in the chorus that can't be beat. For a mellow song, it also has a surprisingly active fretless bass part, good guitar and the classic Crowded House organ. It seems perfect for Rock Band and I was surpised it had not already been charted."
SomeOldGuys – Classic Rock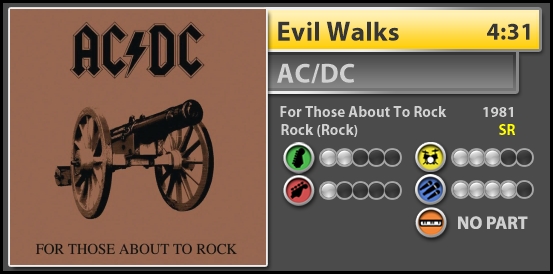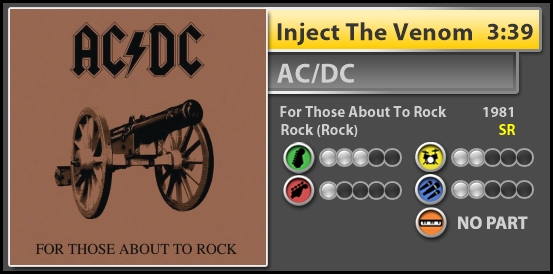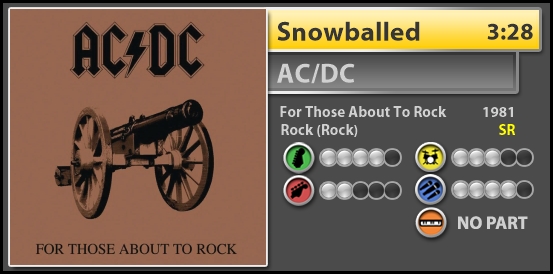 To end off this great event, we have to end it off with the biggest Australian band. SomeOldGuys have made a small three song pack for the 1981 album, For Those About To Rock. They will eventually release the whole album but for now they have just a taste for us in time for May 8th.

It is what to expect from AC/DC, great guitar, fun screaming vocals, the Phil Rudd drums. Great classic rock songs for those that love the genre.
Conclusion
So I would like to just give another thanks to all the authors that had contributed to this event, I was glad of how it turned out and I plan to do it again next year, although with a different restriction. I would also like to thank the few authors that said they wanted to be part of this event but were not able to finish their customs in time, even if you couldn't finish it, I really appreciate your effort and willingness to be part of this event.

Now hope everyone has a good day May 8.