C3 Legacy
July 11, 2013 – Mindless Self Indulgence's "Seven-Eleven"!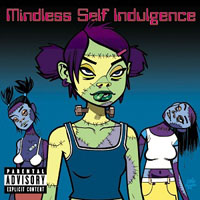 Note: Videos may contain authoring issues that have been fixed, and are for preview purposes only.

New! Singles
Mindless Self Indulgence – "Seven-Eleven" (Nyxyxylyth)
A red X denotes Pro Guitar/Pro Bass, a blue M denotes full multitracks, and a blue K denotes a "karaoke" multitrack (separated vocals).
---
Bitches love 7-Eleven because they know that it gives out free Slurpees on July 11! Both throughout the projects and otherwise. And even though we're not a late-night purveyor of delicious and unhealthy snacks, we are happy to provide a July 11th treat of our own. Nyxyxylyth celebrates 7/11 in style with MSI's "Seven-Eleven", from 2000's Frankenstein Girls Will Seem Strangely Sexy.
We'll have a regular Friday release tomorrow, of course. If you can call any of our eccentric Friday releases "regular".
See you then!

---
New!

Mindless Self Indulgence – "Seven-Eleven" (Nyxyxylyth)