Reply To: Evilcornbread's customs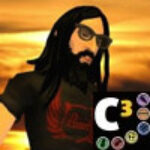 Farottone
Cool thanks for the feedback!

 

I'll go through the vocals and keep an ear out for slides. Still not entirely sure how to author note durations, leaving out consonants, etc.
It takes some time, yes, but fortunately it's not difficult.
As far as harmonies, there are only a couple points in the song that have layered vocals (maybe just that end part)…is it worth authoring them? I mean, is anyone going to play the harmony part just for a little bit of singing? Or does the secondary singer just sing the main part and then split to the harmony when it appears? Either way, splitting it out kind of sucks in that a solo singer wouldn't get to do the "do do do do" parts.
Harmonies are layed out all through the song, the "It's Friday I'm in love" phrase has a harmony all through the song. Other than that, how you split the lead voice in those couple of spots is really up to you, obviously PART VOCALS will need to carry the single lead voice, regardless.